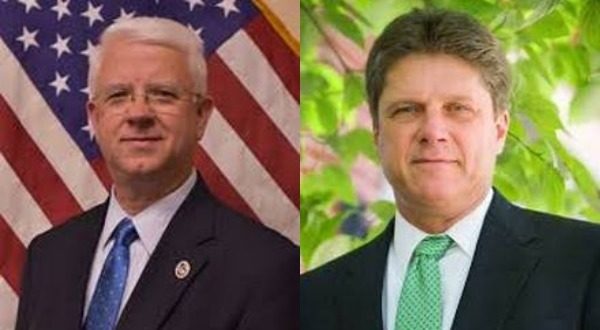 Photos: (from left) Mountain Home Police Chief Carry Manuel and Baxter County Sheriff John Montgomery
As the new mandatory mask order in Arkansas takes effect Monday, local law enforcement is prepared for what could be some tense moments. Both Mountain Home Police Chief Carry Manuel and Baxter County Sheriff John Montgomery say their officers are ready to handle situations, which may arise.
Chief Manuel says it will be a learning experience for everyone involved.

Listen:


Governor Asa Hutchinson's order includes several exemptions, including people younger than 10 years old or those engaged in religious worship. Violators could face a fine of up to $500. The order prohibits law enforcement from detaining or arresting anyone for not complying, and says first-time violators will only receive a verbal or written warning.
Sheriff Montgomery issued a statement via a news release Friday afternoon detailing how his agency will handle ordinance enforcement.
"Because (the order) specifically states that law enforcement officers cannot detain, arrest, or confine any person for violating this order, and with the numerous exemptions allowed thereunder, the Baxter County Sheriff's Office will not respond to complaints of non-compliance of the mask directive," Montgomery says.
The sheriff's office will take action on issues with those that refuse to wear a mask at a local business which requires it, because a different legal statute comes into play.
"(We) will respond to complaint calls where a person has been asked by a local business to comply with the mask directive or leave the premises, but then refuses to leave," the sheriff says. "This would constitute a criminal trespass matter that is a separate and distinct violation under the law."
Manuel says there is a system in place for law enforcement to track written warnings.

Listen:


Masks have been required in some businesses, such as restaurants, since the state reopened. Manuel says his department has handled a few calls where someone refused to wear a mask.

Listen:


Montgomery says "his personal opinions will have no bearing on decisions that are made in these situations. As sheriff, I feel that the citizens and visitors of Baxter County know when they should and should not wear a mask and whether they fall within one of the several exemptions of the face covering mandate."
Hutchinson said the state's rising cases, hospitalizations and deaths show more needs to be done to combat the virus' spread. He also said adults need to set the right example for the state's schoolchildren, many of whom will be required to wear masks when in-person classes resume next month.
WebReadyTM Powered by WireReady® NSI