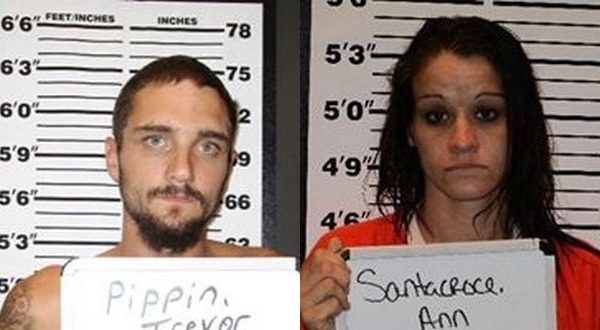 Photos: Trevor Pippin and Ann Santacroce
Two people from southern Missouri have been arrested, after law enforcement reports finding them in a stolen vehicle with evidence linking them to a pair of burglaries.
Douglas County Sheriff Chris Degase says in a Facebook post he and a member of his department located 27-year-old Trevor Pippin of Ava and 31-year-old Ann Santacroce of Squires in the reported stolen vehicle Monday. Online court documents indicate Pippin has a Squires address, while Santacroce has a Mansfield address.
The pair have been charged with a felony count of tampering with a motor vehicle.
Pippin's bond was set at $25,000, cash only, due to him being a repeat offender with nine prior felony arrests. Sheriff Degase says Pippin was just released from the Missouri Department of Corrections on May 2 on parole. Santacroce's bond was set at $15,000, cash or 10%.
Degase says evidence in the vehicle the pair were traveling in links them to recent burglaries at Spurlock's General Store in Squires. Charges are pending in connection with the burglaries.
Online court documents note the two are to have no contact with the Spurlock's Store, with Pippin's also indicating he is to have no contact with the Spurlock family.
WebReadyTM Powered by WireReady® NSI