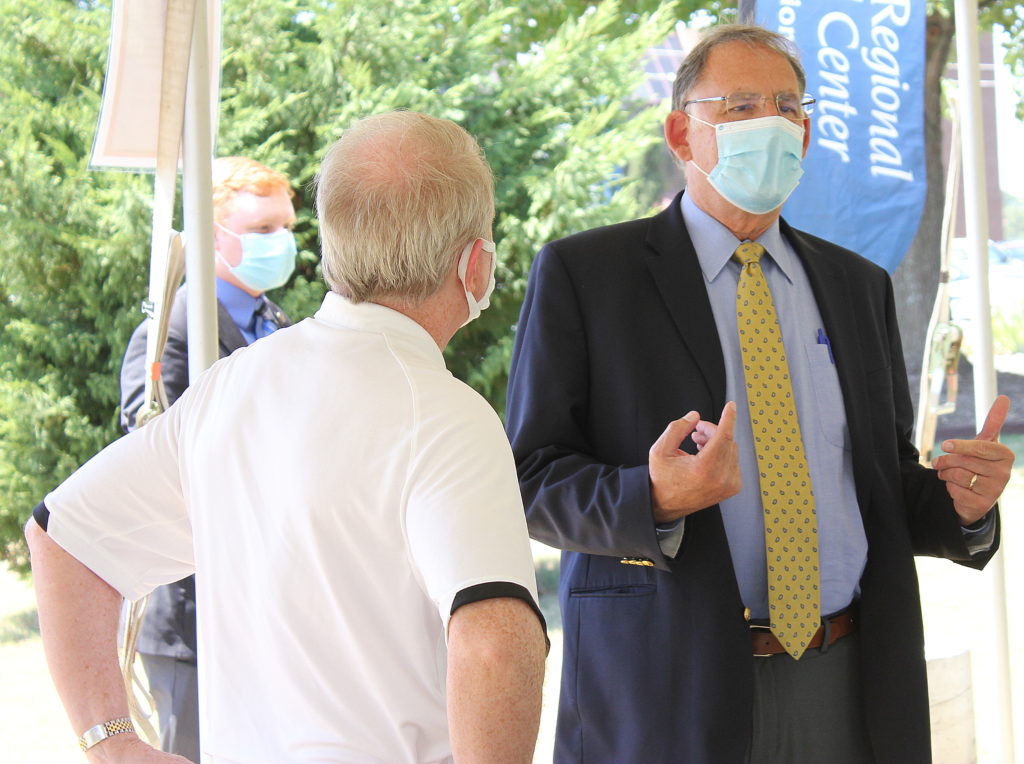 Photo: United States Senator John Boozman (right) visits with Lang Zimmerman, BRMC board chairman, during a visit Tuesday at Baxter Regional Medical Center. During the current congressional break, Arkansas' senior senator is visiting frontline healthcare workers and leaders before the Senate reconvenes on Sept. 8. Sonny Elliott/KTLO.com
United States Senator John Boozman visited Mountain Home on Tuesday afternoon, as he tours the state visiting healthcare workers on the frontlines in the fight against the coronavirus and COVID-19.Boozman's stop was to answer what questions he could from healthcare professionals and to let them know where things stand on Capitol Hill. Arkansas' senior Senator made four stops Tuesday in North Central Arkansas and plans to visit facilities in 12 more counties during the current congressional recess.
He says nothing compares to getting out and visiting with the healthcare community.

Listen: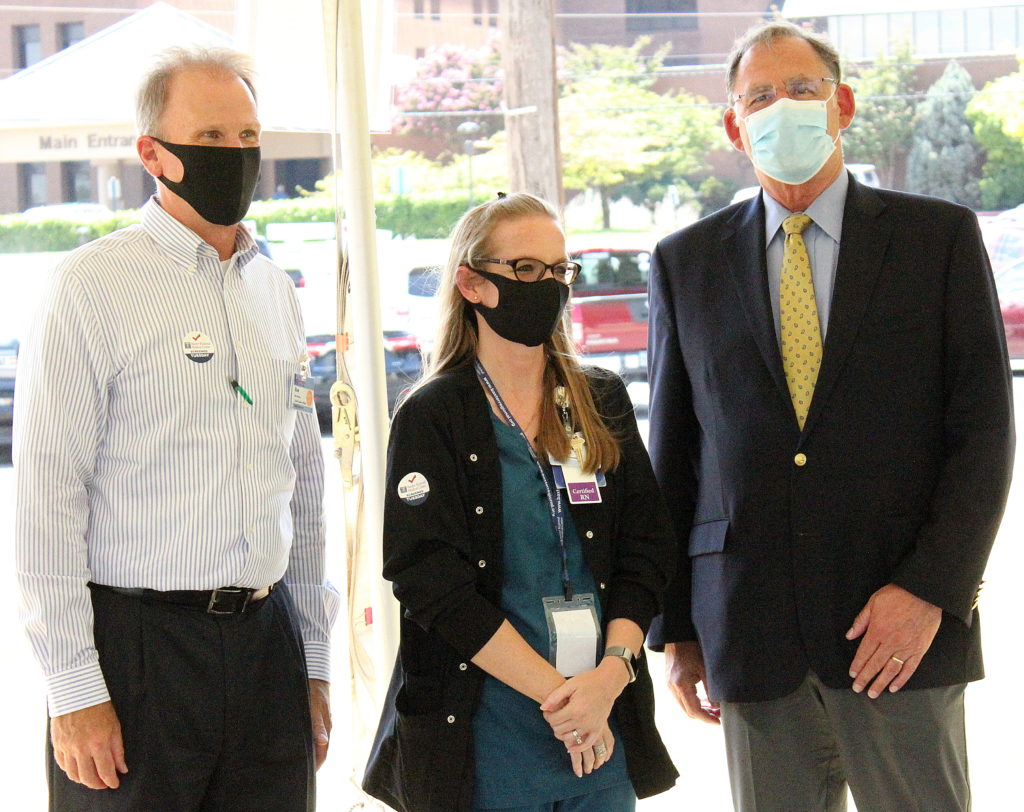 Stephanie Free (center), infection preventionist at Baxter Regional Medical Center, was recognized for her work during the COVID-19 Pandemic by President and CEO Ron Peterson (left) and Senator John Boozman. Sonny Elliott/KTLO.com
Boozman says he knows the healthcare system has been hit hard by the increased patient loads across the nation, as well as financially. Arkansas Gov. Asa Hutchinson shut down elective surgeries when the pandemic picked up steam, putting hospitals in perilous positions. The CARES (Coronavirus Aid, Relief and Economic Security) Act pumped $2.2 trillion into the economy in March, which has helped the nation weather the financial storm.
Work continues to be done on a followup bill, and Boozman says keeping the healthcare system safe is at the top of the list of priorities in any new legislation.

Listen:


Questions about CARES Act funding fueled the discussion. Boozman told the assembled group that it is important that the original intent of the act is maintained, something that is weighing heavily on the minds of hospital leaders, as BRMC President and CEO Ron Peterson explains.

Listen: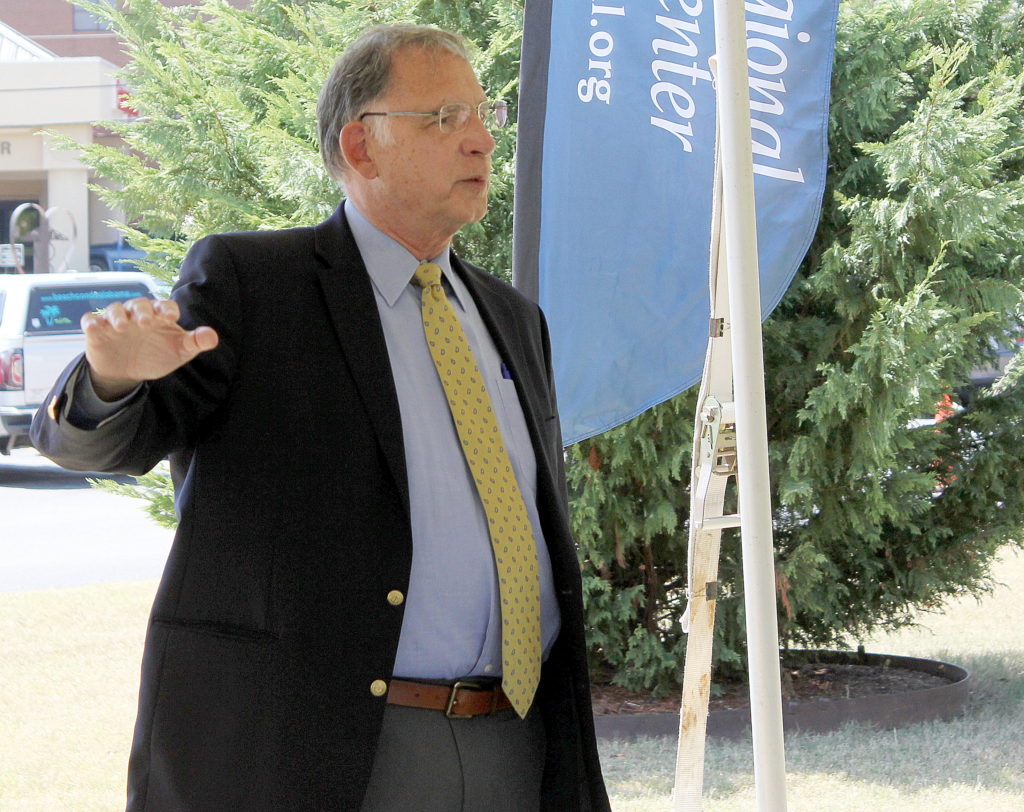 Senator John Boozman answers questions from healthcare workers Tuesday afternoon in Mountain Home.
Boozman says he will take the information he has gathered back to Washington and allow it to be part of the continued fight against the coronavirus. He also discussed what he feels are the top priority items at this time.

Listen:


The senator says he does not expect a vaccine to be ready before the first of the year, telling the crowd that it is not being delayed by a lack of effort or funding. Boozman adds the progress made so far in a vaccine has been the quickest ever made against such an infectious agent.
Peterson says it means a lot for the nation's congressional leaders to listen to those at the frontlines, and Boozman is one of the best.

Listen:


Congress is set to reconvene on Sept. 8.

Community and healthcare leaders are pictured with United States Senator John Boozman on Tuesday at Baxter Regional Medical Center.
WebReadyTM Powered by WireReady® NSI