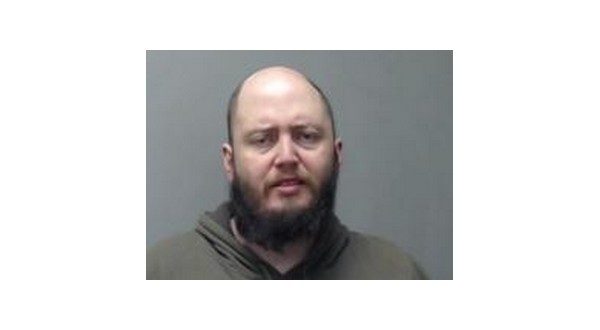 Photo: Jason Robert Patnou
A man who called the Baxter County Detention Center last year and warned the facility was about to explode appeared in Baxter County Circuit Court Thursday.
Deputy Public Defender Mark Cooper, who represents 36-year-old Jason Robert Patnou of Lakeview, told Circuit Judge Gordon Webb discussions with prosecutors were taking place in hopes of reaching a plea agreement in the case. Patnou was ordered to reappear Oct. 15.
When the allegedly threatening call was made about 10:45 a.m. Dec. 1 last year, law officers were greatly aided in tracking down their suspect because Patnou's phone number appeared on Caller ID at the jail. When the call came in, it was reported the male on the other end told jail staff, "You need to release all the prisoners." A jailer asked why the inmates needed to be set free and the caller said, "Because the place is about to explode."
The caller was asked to repeat his message. He only replied "Have fun with that," and hung up.
Jail staff took the number from the Caller ID and cross referenced it with the jail's records management system. It matched a number Patnou had provided when he was booked into the detention center earlier in the year. When jailers called the number, they reported getting a voice mail notification from Patnou.
Patnou's evidence trail grew longer when a further check of his booking records showed an address in Lakeview.
Deputies went to the address and got a surprise when a naked and apparently intoxicated Patnou answered the door. According to the probable cause affidavit, one of the deputies asked to speak to Patnou's mother to explain his presence. When she came to the door, she first instructed her son to go put on clothes.
When his mother was asked if Patnou had a cellphone, she said he did and retrieved it from his room. The deputy asked dispatch to call the phone number associated with the threat, and Patnou's phone rang, and his caller ID showed it was the sheriff's office calling.
Patnou did not go quietly. Once in handcuffs, he allegedly started making threats to the deputies in what was described as a "deep demonic tone." In the same tone, Patnou was reported to have asked if the inmates had been released as he had instructed, then laughed.
When he reached the jail, he refused to be secured to a bench in the booking area and had to be physically restrained.
Patnou was given a breath test showing him to have well above the legal limit of alcohol in his system. He said he had also taken a clonazapan because he had not slept in 42 hours. Clonazapam is a prescription medication given to treat seizures, panic disorder and anxiety.
After the threat, a "precautionary search" of the interior and exterior of the jail was conducted, but nothing suspicious was found, according to Baxter County Sheriff John Montgomeryc
WebReadyTM Powered by WireReady® NSI