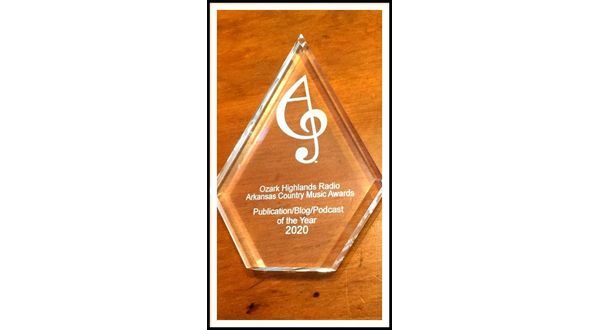 Ozark Highlands Radio (OHR), the Ozark Folk Center State Park's public radio program, received the award for "Podcast of the Year" at the 2020 Arkansas Country Music Awards.The radio program, which is currently in its fifth season, features local folk singers from the Mountain View area and musicians from across the country, including Marty Stuart, The Seldom Scene, Taj Mahal, and others. During each episode, local host Dave Smith pays tribute to Ozark musicians and luminaries of the past with Mark Jones, the son of the legendary late Grandpa Jones, during a segment called "From the Vault."
"Congratulations to Ozark Highlands Radio for this award," says Stacy Hurst, secretary of the Arkansas Department of Parks, Heritage and Tourism. "The music presented at the Ozark Folk Center represents an authentic piece of Arkansas and Ozark Mountain culture. I'm very proud of our staff for the work they do to preserve this unique heritage and bring this music to a worldwide audience."
"We're thrilled to receive the award," says Ozark Highlands Radio Executive Producer Daren Dortin. "Jeff Glover deserves a lot of the credit for the excellent work he's done producing the radio program. We're reaching a new, diverse, and younger audience by having an imprint in the digital space worldwide with on-demand programming."
"This award recognizes the importance of traditional music that has been in the fabric of the Ozarks for so many years and how it can be laced into the digital age through a podcast that is recorded, produced and made possible at the Ozark Folk Center State Park," Arkansas State Parks Director Grady Spann notes. "Ozark Highlands Radio has continued the tradition of keeping folk music alive through the technology of the Podcast making it accessible to so many areas of the country and across the globe."
Ozark Folk Center State Park also received the "2018 Venue of the Year" at the Arkansas Country Music Awards' first award show.
About Ozark Highlands Radio
Ozark Highlands Radio shares and preserves the music, history, and culture of the Ozarks. OHR debuted in January of 2015. It is carried on 150 public and community radio stations across 32 states. All five seasons can be streamed for free online on Google Play, Apple Podcasts, and SoundCloud apps. To find a radio station and listen to previous episodes, visit OzarkHighlandsRadio.com.
Ozark Highlands Radio is produced by Jeff Glover. The executive producer is Daren Dortin. Additional support for the program comes from Arkansas State Parks, a division of the Arkansas Department of Parks, Heritage, & Tourism, the Committee of One Hundred for the Ozark Folk Center, and Stone Bank.
WebReadyTM Powered by WireReady® NSI