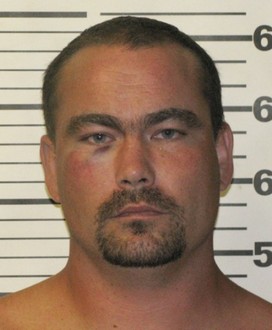 Photo: Matthew Barnett
An Ozark County man, Matthew Barnett of Gainesville, has entered a guilty plea to a charge of third-degree assault/special victim in connection to an incident last September stemming from him jumping onto a lawn mower and repeatedly punching the driver. He then attempted to run the man over with his truck and smashed the victim's weed trimmer into the ground.
The Ozark County Times reports Barnett was given a suspended imposition of sentence earlier this month in circuit court and was placed on supervised probation for five years.
In Missouri, assault in the third degree is committed when a person knowingly causes harm to … the alleged or "special victim" and the charge becomes a Class B felony.
According to the probable cause statement filed in the case, an Ozark County sheriff's deputy responded to a call of an altercation involving a vehicle and lawn mower at the storage sheds at U.S. Highway 160 and Missouri Highway 5 south just west of Gainesville. The deputy arrived to find the victim bleeding from a cut on his left cheek near his eye and with a swollen, bruised right cheek. He also had a bleeding cut on his right hand.
The original story is available here.
WebReadyTM Powered by WireReady® NSI