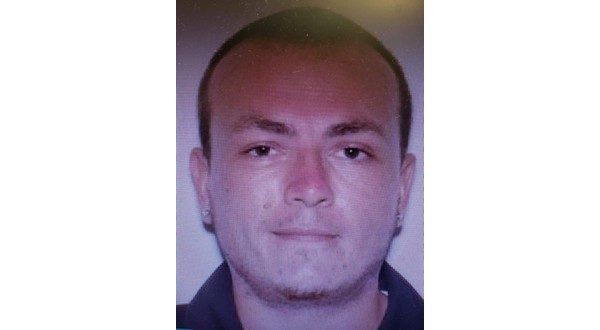 Photo:  Jonathon Jarrell Jr.  Photo:  Courtesy Newton County Sheriff's Office
A Madison County man accused of rape and the subject of a manhunt in Newton County has been arrested, after his vehicle struck a patrol unit head-on.
Newton County Sheriff Glen Wheeler says in a Facebook post 25-year-old Jonathon Jerrell Jr. was captured following a lengthy pursuit ending in the crash.
KNWA reports the Madison County Sheriff's Office and Fayetteville police were involved in a pursuit early Friday morning.
Fayetteville officers were asked to follow-up on the rape suspect around midnight after a shots heard call but didn't find anyone.
Police then received information the suspect was in Fayetteville. Jerrell was located around 3:45 a.m., when an officer got into a pursuit that headed towards Madison County.
Madison County Sheriff Rick Evans says Fayetteville police alerted his office that officers were in pursuit and headed toward the county.
Once the suspect entered Madison County, deputies took over.
Evans says the suspect was headed east down U.S. Highway 412 when Jerrell entered the westbound lane crashing head-on with a Madison County deputy around 4:30 a.m near Huntsville.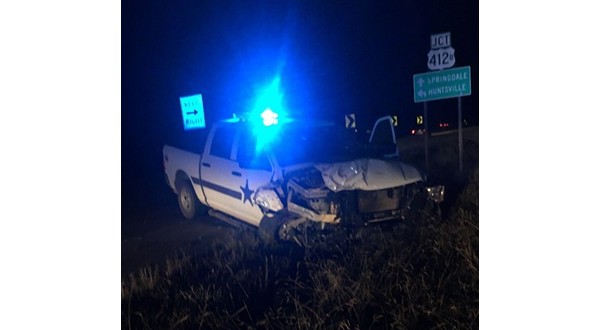 Photo: Courtesy KFSM-TV
Evans says the crash happened on the front passenger side of the deputy's vehicle.
Both Jerrell and the deputy were taken to a nearby hospital to be checked out, according to Evans.
The deputy suffered minor injuries, and the suspect was treated and taken to the Washington County Jail.
Earlier, Sheriff Wheeler in a Facebook post said his office received a call Thursday morning about 8:20 of a car parked at Anstaff Bank. A white male of slender build with little or no hair wearing khaki shorts and a red ball cap exited the vehicle, grabbed some duffel bags and walked into the woods.
Jasper Police responded within a couple of minutes, and the male had disappeared. Later in the day, it was learned that the car was stolen from Fayetteville.
Sheriff Wheeler says the suspect, believed to be Jerrell, is a potential suspect in a rape in Madison County from Wednesday. It is also believed Jerrell was armed when he abandoned the vehicle.
Jerrell was later seen on video in Harrison, around 12:30 p.m., in another stolen vehicle.
Wheeler said Newton County officials were notified Jerrell was involved in a shooting in Fayetteville and fled the scene in a stolen pickup.
WebReadyTM Powered by WireReady® NSI