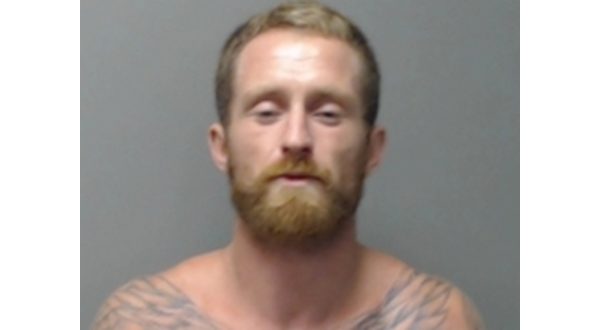 Photo: Miles Ray Scott
A man arrested twice in a span of just 24 days appeared in Baxter County Circuit Court last Thursday.
Thirty-three-year-old Miles Ray Scott entered a not guilty plea to charges against him in two criminal cases.
His latest arrest came Aug. 10, when he was picked up at a Mountain Home trailer park, where he had gone on an apparently drug-fueled tirade.
Scott was reported to have been roaming the property challenging people to fight.
At one point, Scott was said to have reached into a vehicle and tried to pull the driver out.
Officers from the Mountain Home Police Department (MHPD) reported Scott was "walking around very agitated making threats" toward various people.
He is reported to have dented the hood of one car and damaged a pickup truck by kicking the driver's side door.
Charges against Scott stemming from the trailer park incident included third-degree battery, public intoxication, disorderly conduct and four counts of criminal mischief. All of those charges were misdemeanors handled in district court.
After Scott was taken to the Baxter County Detention Center from the trailer park, his anger only became more intense.
Jail staff told him they were going to remove his ankle monitor, but Scott had other ideas.
He was reported to have become irate, screamed profanities and spit at one jailer.
Scott continued to refuse commands, but was finally taken to the ground and handcuffed.
After he had been placed in a detox cell, Scott began to make threats to the jail nurse who was in the booking area using a computer.
Scott then was reported to have slung toilet water out of a small door used to pass food trays into the cell and known as a "bean hole." The water hit the nurse, the booking counter, computer screen, keyboard and paperwork.
According to the incident report, the nurse looked toward the detox cell and said Scott was "smiling and laughing."
His alleged actions in the jail resulted in Scott being charged with two felony counts of second-degree battery on a police officer.
The arrest also resulted in a violation of Scott's parole on an earlier case in another county.
His first Baxter County arrest stemmed from the theft of a vehicle reported to Mountain Home police July 18.
The victim told police he had awaken to find his vehicle missing. He said he did not have a suspect in mind but had not given anyone permission to use it.
A tip came to the police July 20 that Scott had been seen driving a vehicle matching the description of the stolen one in a mobile home park along 16th Street.
Police went to the location and found the stolen vehicle and arrested Scott.
According to the probable cause affidavit, Scott was alleged to have admitted being in possession of the vehicle.
He was charged with theft by receiving in the stolen car case.
Scott was ordered to reappear in his two Baxter County criminal cases Oct. 1.
Scott is listed as living in several places on various documents filed in his case.
One entry in the log at the Baxter County jail shows him living in Flippin, another lists Mountain Home.
An arrest warrant shows an address in Summit, and a news story about alleged criminal activity in Boone County showed Scott living in St. Joe.
Electronic court records indicate Scott has also been in trouble in Boone, Marion and Searcy counties.
Charges filed against him include setting fire to fields along Arkansas Highway 7 South in Boone County endangering homes, other structures, people and livestock.
A witness who had seen Scott just before fires began to break out in a wooded area described him to police as having a camo-colored "headband" on.
Scott was eventually found lying on the side of Highway 7. When police questioned him, they asked him where his camo-colored headband was.
Scott said he did not have such a headband, but had been wearing camo-colored underwear on his head at one point, but the garment had gone missing.
He was charged with unlawful burning and sentenced to three years in prison.
Scott has also been charged with residential burglary, terroristic threatening and refusal to submit to arrest.
WebReadyTM Powered by WireReady® NSI