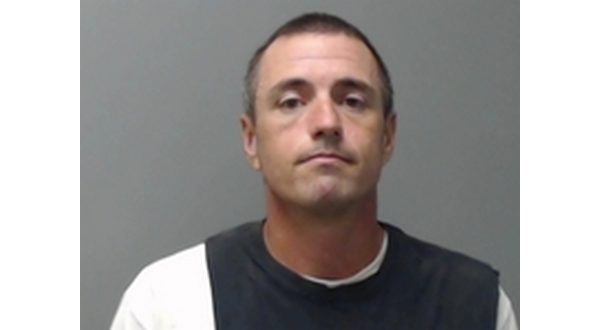 Photo: Clayton Robert Moore
A Baxter County man with a number of recent arrests in the area has been booked back into the Baxter County Detention Center on two warrants after bonding out of the Izard County Jail. The warrants for 41-year-old Clayton Robert Moore of Norfork were issued for separate incidents in August.
Moore was arrested in mid-May when he was discovered in a woman's shed on Hopewell Hollow Road wearing a ball cap, boots and a garbage bag.
Moore was arrested. He pled not guilty to charges of residential burglary, breaking or entering a motor vehicle, breaking or entering a structure and first-degree criminal mischief on May 28.
He is scheduled to reappear in Baxter County Circuit Court Nov. 5.
One of the current warrants is for an incident Aug. 4 in which Moore allegedly went to where his ex-wife was staying in Briarcliff in violation of a no-contact order in place after the Norfork man was arrested in July on two counts of third-degree domestic battery.
The victim alleges Moore dragged her out of the house about 5 that morning, but she had not reported it. When he showed up again about 8 that night, Moore allegedly tried to grab the victim and pull her towards his vehicle, but she was able to escape. She also told deputies Moore had been making threats toward her saying he would "finish the job."
When deputies went to where Moore was staying and tried to arrest him, he became combative and pushed both deputies. One of the deputies deployed his Taser, but it had no affect on Moore. When a second Taser was deployed, Moore was reported to have gone to the ground but pulled out one of the leads and ran into the woods and was not found.
The other warrant Moore was booked into jail on on Monday was from the city of Norfork charging him with fleeing and resisting arrest. The warrant was issued Aug. 31, but no details are available.
Moore was also arrested Aug. 25 in Izard County for fighting with an Arkansas State Police trooper.
The trooper reported sitting at a stop sign waiting to pull onto Arkansas Highway 5, when he saw a silver Jeep. The license plate on the vehicle came back as belonging on a red Chevrolet pickup truck.
The Jeep was pulled over. Moore was a passenger. He was found to have Baxter County warrants issued after the Aug. 4 event.
As was true with the earlier arrest, Moore did not go quietly. The trooper reported having to take Moore to the ground, after he refused to submit to arrest.
Moore continued to fight, and the trooper struck Moore with his fist and used a stun gun on him.
Even after establishing a degree of control over Moore, the trooper reported the suspect continued to try and jerk away. Moore also kicked the trooper several times.
Moore was found to have drugs and drug paraphernalia on his person. He was reported to have also brought a pipe used to smoke methamphetamine into the Izard County Jail adding to his lengthy list of charges.
Moore is held on bonds totaling $5,000.
WebReadyTM Powered by WireReady® NSI