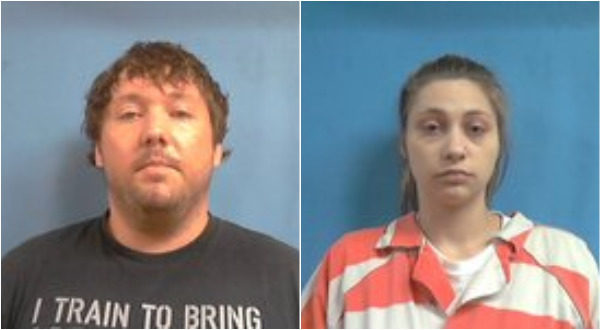 Photos: Joshua Brightwell and Sarenah V. Motes
Two Stone County residents are being held on bonds of $40,000 each, after law enforcement received a call from a neighbor reporting shots being fired in his direction from the house next door.
According to the probable cause affidavit, deputies responded to a field next to a residence long Gammill Ridge Road near Timbo Sept. 24 evening.
They learned the alleged gunshots were coming from a residence belonging to 32-year-old Joshua Brightwell and were aware he had outstanding warrants for failure to appear out of Stone County and probation violations out of district court in Van Buren County.
Deputies made contact with 23-year-old Sarenah V. Motes at Brightwell's residence and observed a male run toward the rear of the home.
While speaking with Motes, they observed two spent .22 caliber shell casings on the floor in the doorway, a rifle with a scope and a black handgun in plain view in the living room.
Motes provided the deputies with a fictitious name for Brightwell, when she was asked to identify the male observed running to the rear of the home and denied he was there.
With Motes being on felony probation and an active search waiver on file, the deputies advised they would be conducting a search due to the observed firearms.
When they announced themselves, Brightwell exited from a back room and admitted having fired the gun earlier.
During the search, deputies observed
– a marijuana smoking bong on the coffee table and snorting tubes, with meth residue inside, on the couch
– loose marijuana in a tray
– a plastic container on the table with meth residue inside
– a tote holding a box of sandwich baggies and numerous other bags with white crystalline residue inside field testing positive for crystal methamphetamine
– a loaded .22 caliber pistol
– a loaded .22 caliber rifle with scope
– digital scales with meth residue
– a used syringe field testing positive in Motes' dresser drawer
– a small amount of marijuana in the freezer, as well as a spoon with a white crystalline residue
– large amount of packaging pertaining to trafficking methamphetamine
– notebook on the coffee table containing numerous amounts of money consistent with drug trafficking and known drug users' and dealers' names (known as past/owe sheets)
Deputies noted it appeared methamphetamine had been dumped into the toilet, due to residue from the illegal substance being on the seat and rim.
Motes and Brightwell are charged with
– Possession of drug paraphernalia with the purpose to use crystal methamphetamine, Class D felony
– Possession of drug paraphernalia with the purpose to test or analyze crystal methamphetamine, Class B felony
– Maintaining a drug premises, Class C felony
– Possession of a controlled substance, marijuana, Schedule VI, Class A misdemeanor
In addition, Motes is charged with
– Possession of a firearm by certain persons, meaning she is a convicted felon, Class D felony
The pair remains in the Stone County Detention Center.
WebReadyTM Powered by WireReady® NSI