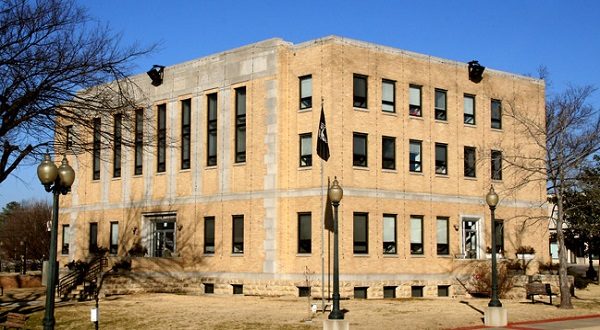 In one of its lengthier sessions in recent months, the Baxter County Quorum Court took just under an hour and 15 minutes to dispose of its 13-item agenda Tuesday evening with all members present. Much of the time was spent on five related items of business concerning a grant application for approximately $1 million through the federal Coronavirus Aid, Relief, and Economic Security (CARES) Act.
Judge Mickey Pendergrass said he and other judges learned about the grant funding about three weeks ago. Since then, Judge Pendergrass said preparing for submission of the application has been all-consuming. He says if the counties do not apply for the funding, the federal dollars will revert to the state. The purpose of the funding is to reimburse the counties for expenses related to the COVID-19 pandemic.After approving a sub-fund line item in the county general section of the budget to separate these funds from all other monies, the justices turned their attention to four resolutions concerning the entities that would be receiving the dollars.
With grant approval, at its November meeting, the court will consider the distribution of the funds among hazard pay for certain public safety officers, up to $500,000 to the Food Bank of North Central Arkansas and the 33 organizations it serves, up to $172,00 for the Baxter County Fair Board and up to $94,000 for the Baxter County Fire Chiefs Association for those departments in the unincorporated areas of the county.
While the vote was unanimous on two of the resolutions, JP Dirk Waldrop voted against the food bank resolution, while joining JP Ty Chapman in voting against the fair board resolution.
In other business, the court gave its unanimous approval to a resolution in support of Issue 1 on the November General Election ballot. The proposal would continue a one-cent sales and use tax for state highways and bridges, county roads and city streets, but as an amendment to the Arkansas Constitution.
Pendergrass says passage secures $650,000 annually for Baxter County and includes a written commitment of $100 million for U.S. Highway 412 improvements.
The court gave its approval to $42,000 in funding to upgrade equipment at the 911 center. Pendergrass told the justices 911 legislation passed by the Arkansas General Assembly has lead to significant funding for the county. The county recently received $520,000 from the fund, representing increased fees on cellphones. At the rate of collections, the county is expecting the next check to be in excess of $180,000.
The court confirmed Pendergrass' appointment of John Bolding to fill an unexpired term on the Tracy Area Fire Protection District Board of Commissioners and the reappointment of Wayne Roth to the Gamaliel Fire Protection District Board of Commissioners.
WebReadyTM Powered by WireReady® NSI