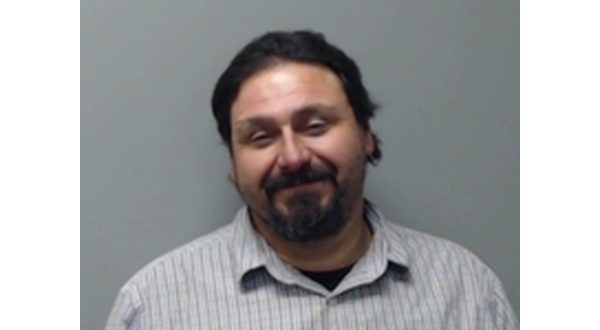 Photo: Dwayne Allen Thompson
A Mountain Home man who entered guilty pleas to a multitude of charges contained in nine open criminal cases in late 2017 and was given 13 years in prison and ordered to pay almost $70,000 in restitution is back in jail.
Because of the sheer volume of charges involved in all of 45-year-old Dwayne Allen Thompson's various cases, it took Circuit Judge John Putman about a half-hour to complete the plea taking process.
The judge commented he believed it was the largest number of cases he had seen filed against one individual since he had been on the bench.
According to the electronic jail log maintained by the Baxter County Sheriff's Office, Thompson was jailed on new charges at about 1:50 a.m. Oct. 7. He is accused of residential burglary, theft of property and possessing a controlled substance.
The new allegations have also resulted in a parole violation for Thompson.
According to a Baxter County Sheriff's Office incident report, Thompson was developed as a suspect in a residential burglary reported late last month.
A 62-year-old man told deputies he had allowed Thompson to stay with him for about five months "to help him out." He said Thompson had recently moved out at his request, but allegedly had kept a key to the residence and a garage door opener.
The victim said sometime between 9:30 a.m. and 4 p.m. on Sept 30, someone had entered his home without using force and had stolen two guns.
One of the handguns was in a nightstand drawer and the other in a side table near the victim's recliner.
The person made an unsuccessful attempt to get into a gun safe in the victim's house. The instructions on how to gain entry to the safe were hidden, but the homeowner said Thompson knew where they were located.
Thompson's problem with the law began when he wrote a bad check for almost $3,800 to a local business in July 2016 for construction materials.
Court records show he then launched a yearlong crime spree picking up charges for breaking into homes, a shop building, storage units and a commercial establishment in various part of the county.
The episode came to an end early in February 2017 when Thompson was stopped by a Mountain Home police officer and found to have methamphetamine in his possession, as well as a marijuana cigarette and a handgun in the passenger compartment of the vehicle.
The officer reported he made the stop because he was aware Thompson's driver's license had been suspended.
The quantity of Thompson's haul from the various thefts was substantial. It took five trailers to transport the items to the Baxter County Fairgrounds, where they could be displayed in an effort to reunite the stolen property with its rightful owners.
In one break-in, Thompson was accused of taking an estimated $25,000 worth of tools, welding equipment and rims and tires from a shop building located along County Road 27.
The stolen items Thompson was accused of taking or at least handling included a record collection, wall art, collectible Barbie dolls in display packaging, a round dining table, wood carvings, musical equipment a flat screen television, power washer, and – oddly enough – two sets of architectural plans rendered for the Baxter County Humane Society and allegedly taken from an outbuilding located along Timberlane Road.
At one point in the investigation into the crimes, a cooperating individual came forward and provided information regarding several thefts that had occurred in the area.
The informant also told investigators where stolen property was being stored by Thompson and the location from which some of the items had been taken.
Thompson was eventually tied to a large number of break-ins and burglaries. As he sat in the Baxter County jail, the investigation continued and new cases were opened, when he was identified as the person who had been involved in the theft of various items.
During a court appearance on his earlier charges, Thompson said he had actually slept in a house he had broken into and robbed for a few nights, because he "had nowhere else to stay."
He said he had been "a good father and a good worker for 25 years," but his life began a rapid downward spiral after he encountered domestic problems. Thompson said, "I don't know what happened at that point. I just went off the rails."
After all the cases had been filed in circuit court, Thompson faced a total of 20 felony and two misdemeanor counts.
In addition to the criminal charges, the state seized a 1998 Ford Explorer allegedly used in some of the crimes.
Six of the criminal cases against Thompson were opened in December 2016.
WebReadyTM Powered by WireReady® NSI