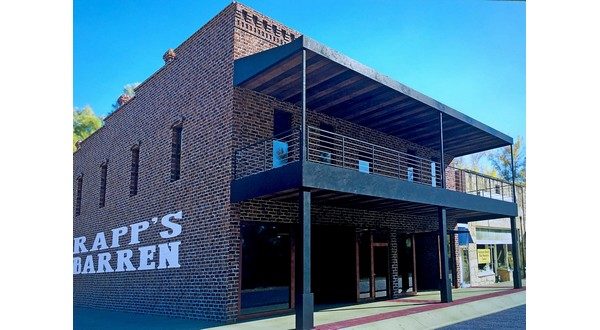 Artist's rendering of revitalized Rapp's Barren Brewing Company coming to Baxter County Courthouse Square
The remodel of the future location of the Rapp's Barren Brewing Company at 602 South Baker on the east side of the Baxter County Courthouse Square topped the list of building permits issued by the City of Mountain Home in September, according to a report from Jeannie Anderson from the Building Inspection Department. The permit issued to Crownover Construction has a construction value of $900,000.
The second largest construction permit was issued to AT&T Builders, LLC, for Brick Oven Pizza to be located at 1023 U.S. Highway 62 East. The project has a construction value of $425,000.
Three permits with construction values in excess of $100,000 were issued for residential projects. The largest went to Nathan Farris for a single family home to be constructed at 1725 Surrey for Kyle and Michelle McCarn. The construction value for the 2,600-square-foot home is listed at $210,000.
The remaining two residential permits were issued to KBSS Land Company for new duplexes with construction values of $150,000 each to be located at 921 South Baker and 946 South Church streets. Total square footage on both duplexes is listed at 1,100.
Permits for two storage buildings were issued. The first went to James Van Poucke to be located at 821 Bucher Street. The 288-square-foot facility has a construction value of $13,000. The second was issued to Oswald Frentz to be located at 515 East First Street. The 160-square-foot facility has a construction value of $1,500.
Nine sign permits round out the monthly building permit report.
A permit was issued to Anderson LED Signs for Brick Oven Pizza, with a construction value of $14,000.
Two permits were issued to Dijohn Designs. The first was for FSIS Group, located at 1216 U.S. Highway 62 East, with a construction value of $9,400, and the second to the Food Bank of North Central Arkansas, located at 1042 Highland Circle, with a construction value of $1,200.
Four sign permits were issued to Joush Raley for Fields of Terror, with locations at 1736 Sunset and U.S. Highway 62; 321 Bomber Boulevard; 309 East 12th Street; and 101 Arkansas Avenue. Value of each of the permits was $60.
A sign permit was issued to Charles Grinder for Quaint Cottage, located at 205 North College. The construction value is listed at $270.
The final permit for a temporary sign was issued to Sleep Mart, located at 701 U.S. Highway 62 East, with a construction value of $500.
Total construction value of the 16 permits issued in September was $1.8 million.
The cost of all permits issued for the month of September totaled $7,118, including the actual cost of building, electric, mechanical and plumbing permits, along with $20 for a variance and $880 in mowing fees.
The city building and inspection department handled 56 inspections for the month.
WebReadyTM Powered by WireReady® NSI