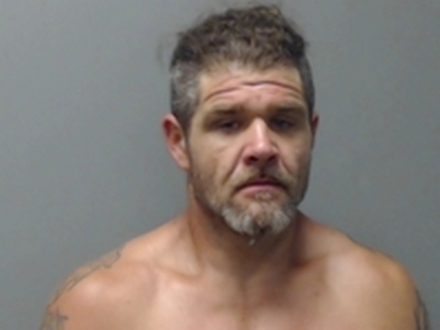 Photo: Gerald Phillip Morris
A 39-year-old Mountain Home man with a long criminal history was back in Baxter County Circuit Court last Thursday where he entered a not guilty plea to the newest charges against him.
In October last year, Gerald Phillip Morris was charged with a number of counts of felony possession of drugs and drug paraphernalia, as well as simultaneous possession of drugs and firearms and being a felon in possession of a weapon.
The simultaneous possession of drugs and firearms charge is a Class Y felony punishable by up to life in prison.
Morris made a few court appearances in the late 2019 case and then disappeared for a time. He was declared a fugitive Aug. 6 and was arrested on a failure to appear warrant Sept. 24.
When officers went to his known address along County Road 1008 looking for him on the failure to appear warrant this month, they found Morris. They also located 61 grams of methamphetamine inside a wooden box hidden in the air conditioning vent in Morris' bedroom.
Some of the drug was packaged in a way that indicated it might have been intended for sale.
In addition, a number of items of drug paraphernalia were found during the search.
When officers paid their visit in October last year, they reported finding 186 grams of methamphetamine.
Morris was one of four people arrested in the raid on Oct. 9 last year.
In addition to Morris, 25-year-old Kaitlyn Johnston-Morris, described as Morris' wife, along with two of his other relatives — 60-year-old Howard Johnson and 55-year-old Dawn Thompson — were arrested.
Johnston-Morris is serving a 10-year prison sentence on a conviction in an Izard County drug case. She is an inmate in the McPherson Unit of the state prison system at Newport.
During the arrest last year, officers reported locating several drugs in the home, in addition to the large quantity of methamphetamine – including almost three grams of fentanyl and several dosage units of LSD.
Officers reported finding a loaded handgun and numerous items of drug paraphernalia, including packaging used in the sale of methamphetamine.
Almost $15,000 in cash and several vehicles were also seized.
Morris' attorney has filed a motion to have the cash returned to his client, claiming the seizure of the money prevented the Mountain Home man from hiring the attorney of his choice in violation of his Sixth Amendment rights.
Morris is now being represented by the Public Defender's Office. On the affidavit outlining his financial situation, Morris lists himself as unemployed.
Morris' attorney has also filed a motion to have evidence seized at the residence suppressed. Among other claims in that motion is that the affidavit used to obtain a search warrant contains "no facts showing that criminal activity took place or that items of contraband would be found in the home that was searched."
Morris is being charged as a habitual offender. He has an extensive criminal record dating back to 1999, facing mainly theft and drug charges.
Criminal cases were opened on Morris in 1999, 2000, 2001, 2004, 2006, 2007, 2012 and 2016.
He has spent significant time on probation as well as doing stints in the state prison system. Two of the cases were dismissed – one charge of intimidating a witness filed in 1999 and a drug charge in 2001.
If the habitual offender charge sticks, prosecutors can add more time to any sentence Morris might get in his 2019 case.
He was close to completing the 14th Judicial District Drug Court program when he was arrested for selling a small quantity of methamphetamine in 2012. His probation was revoked, and he was sent to prison for 10 years in October of that year.
Johnston-Morris acting as her own attorney has filed a motion in her current Baxter County case to get back an automobile and money from a brown wallet she says were seized in the early October raid.
Together, the four people arrested in the 2019 Baxter County drug case have had a total of more than 35 criminal cases opened against them in Baxter and other counties.
WebReadyTM Powered by WireReady® NSI