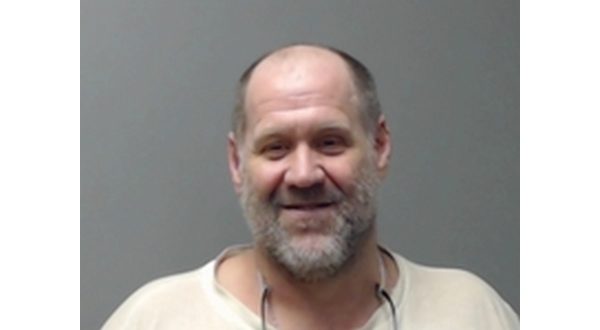 Photo: Larry Anthony George

A man who has been on the run for almost a year, after failing to appear in Baxter County Circuit Court on drug-related charges, is back behind bars.
Fifty-year-old Larry Anthony George has a long string of felony charges that have been filed against him in Baxter, Cleburne, Craighead, Izard, Independence and Jackson counties.
Three of the criminal cases have not been resolved, including the one in Baxter County.
The Baxter County case was filed in mid-December 2018. George, who listed an address in the small Jackson County town of Swifton at the time, was initially pulled over by a Mountain Home police officer for a minor equipment violation.
A K9 officer arrived and alerted to the presence of narcotics in the vehicle being driven by George.
While the traffic stop was ongoing, the officer noticed a black pouch partially hanging out of George's pants leg.
The pouch contained two plastic bags each holding a substance field testing positive for methamphetamine.
The methamphetamine was reported to have weighed 7 grams.
George did now show up in Baxter County Circuit Court on Nov. 14 last year and a failure to appear warrant was issued.
The case is now classified as inactive.
George also shows up on the docket of the Batesville city traffic and criminal court. There are 64 entries under that name in electronic court records.
The entries show misdemeanor charges of forgery, writing hot checks, criminal mischief, shoplifting, fleeing on foot, criminal impersonation, failure to appear, contempt of court and criminal mischief.
He has racked up more than four felony convictions during his criminal career stretching back more than 20 years.
When George was arrested in early March last year, he is alleged to have attempted to flush 85 grams of methamphetamine down the toilet of the Cleburne County jail. He was unsuccessful and the drug was seized by law enforcement.
During an interview, George is alleged to have described himself to investigators as a "mid-level drug dealer."
He said he had purchased the 85 grams of methamphetamine for $1,400 with plans to sell it. He said he normally sold an ounce of the drug for $800.
When he was arrested in Independence County on Jan. 6, George admitted to officers he had purchased methamphetamine, and it was on his person and in the vehicle in which he had been a passenger.
One plastic bag containing meth was found in George's pocket.
Also located in the vehicle was a sack with four small bags of methamphetamine inside, as well as two alprazolam tablets.
According to the probable cause affidavit, approximately 51 grams of methamphetamine were seized.
George is reported to have told officers he was delivering the drug to an unnamed person in Mountain Home.
George has served time in county jails and the Arkansas prison system. He is listed as an absconder by the probation and parole office in Mountain Home.
WebReadyTM Powered by WireReady® NSI