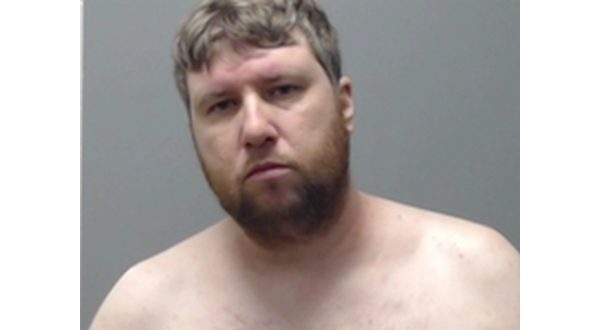 Photo: Joseph M. Theusch
A distraught father appeared in Baxter County Circuit Court Thursday to report his bipolar son — who was arrested Oct. 23 for sleeping nude in his vehicle on a grocery store parking lot — is missing.
The son, 39-year-old Joseph M. Theusch, was picked up in the early morning hours of Oct. 23 when a Mountain Home police officer responded to a report of a male subject believed to be passed out in a vehicle on the parking lot.
When the officer made contact with Theusch, he was nude and sitting in the front seat of his vehicle.
According to the probable cause affidavit, Theusch was "very fidgety, sweating and appeared to be under the influence of narcotics."
The officer reported finding a large quantity of kratom capsules in the vehicle. The capsules were reported to have contained a total of almost 1,500 grams of the "drug."
Kratom is a tropical evergreen tree in the coffee family found growing in Southeast Asia. Its leaves have been used in traditional Asian medicine for hundreds of years.
The Federal Food and Drug Administration reports kratom is used by a fairly substantial number of people to self-treat such things as pain, anxiety and depression.
It's legal to purchase kratom in Missouri, but illegal in Arkansas. The father told Circuit Judge Gordon Webb his son had purchased and taken kratom when the family lived in Missouri before moving to Arkansas in May.
The father said he posted a $15,000 bond to get his son out of jail on Oct. 23. He told the court his son had a severe rash over much of his body and said after his release, he was going to the emergency room at Baxter Regional Medical Center for treatment.
The father said hours later, his son had not returned home, and he did not know his whereabouts when he made his court appearance Thursday.
Because of his mental illness, Theusch is prone "to go away by himself for periods of time and live in his car" the father told the court.
He said his son was impaired to the point he receives disability payments for his mental illness.
Judge Webb said he was sympathetic to the family's plight, but it was also important to get Theusch located and out of his car.
"We need to get some control over your son's activities," the judge said, "rather than having him driving aimlessly around."
The judge issued a failure to appear warrant for Theusch. He told the father the warrant "is the only tool I have at this point to deal with this situation."
He said after Theusch was in custody, "we can discuss treatment plans or whatever needs to be done."
WebReadyTM Powered by WireReady® NSI