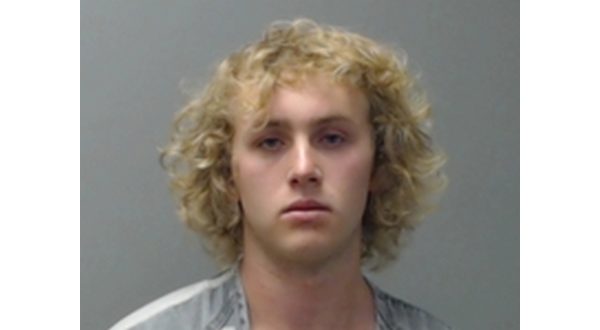 Photo: Baxter Morrell Stowers
A Salesville teen accused of shooting and killing a 41-year-old man made an appearance in Baxter County Circuit Court Thursday.
It was announced 18-year-old Baxter Morrell Stowers will be represented by Bentonville attorney Shane Wilkinson. The attorney filed his entry of appearance Monday.
Wilkinson, a former deputy prosecuting attorney, practices only criminal law, according to his firm's website.
On Thursday, the state asked the court to approve weekly drug testing as a conditions of Stowers' bond, and Circuit Judge Gordon Webb approved the request. Wilkinson said the defense had no objection. He told the court, "There is no drug problem with Mr. Stowers, so these tests will just end up making him look good."
Stowers, who is charged as an adult, has already entered a not guilty plea to the allegation against him stemming from the shooting death of Jeremy Wayne Alman, also of Salesville.
In addition to first-degree murder, Stowers is charged with aggravated residential burglary, criminal use of a prohibited weapon and possession of a handgun by a minor.
As with his initial appearance in the case on Oct. 15, Stowers participated in Thursday's court session by video hookup from an undisclosed location.
When prosecutor David Ethredge told the court during the mid-October session that he wanted Stowers to reveal where he would be living, Stowers said he did not want to give out an address publicly due to "safety concerns."
It was decided Stowers would provide the information to the company that wrote his $200,000 bail bond, and the company would share the information with the prosecutor's office.
Stowers was ordered to turn in any passport he holds.
Much of the information concerning the incident, including what might have motivated the killing, is being kept under wraps by prosecutors.
The alleged shooter had made no statements regarding the incident to investigators at the time a news release was put out by Baxter County Sheriff John Montgomery on Oct. 6. There has been no official notice that situation has changed.
Stowers himself called 911 about 2 p.m. on Oct. 5 and reported he had shot and killed another male at an address along County Road 111.
When deputies responded, they found Stowers waiting for them in the driveway with his hands up.
He was described as wearing red and white Nike shoes, blue jeans and a St. Louis Cardinal logo shirt and to have been holding a wallet and cellphone in his hand.
Deputies asked Stowers if anyone else was in the residence, and he said he did not believe so. He told deputies he thought the victim had been the only one at home.
When deputies cleared the residence, they found no one else inside.
Alman's body was found lying on a concrete floor between the front entrance to the residence and a door leading to a screened in porch. He was reported to have a gunshot to the head just behind and above his left ear. In addition, investigators said there appeared to be a wound to the victim's right arm just above the center of the triceps area.
The body was sent to the State Medical Examiner's Office in Little Rock for an autopsy.
According to a news release from Baxter County Sheriff John Montgomery, the weapon used in the shooting was also taken into evidence at the scene.
Investigators reported there were no signs of a struggle inside the residence.
Alman was listed on the incident report as an employee of the Arkansas Department of Correction.
As Stowers was being taken from the scene of the incident to the Baxter County Detention Center, he is reported to have asked if the deputy driving him "had ever had to shoot a man?" Stowers was said to have commented, "It's the worst feeling."
WebReadyTM Powered by WireReady® NSI