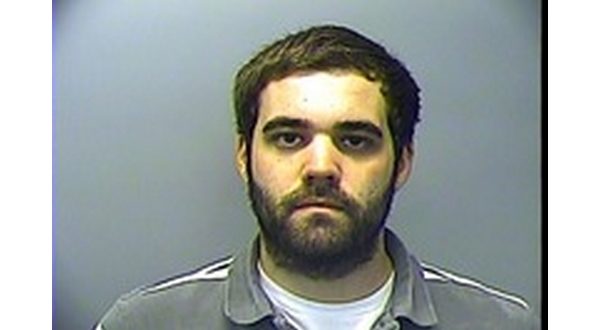 Photo: Tyler Blake Lee
On Aug. 24, 2017, a Henderson man stood before the bench in Baxter County Circuit Court and pled guilty to a charge of terroristic threatening.
He was given four years probation.
Twenty-nine-year-old Tyler Blake Lee was before the same bench in the same courtroom in connection with the same case Thursday — three years, two month and 27 days after his initial guilty plea in 2017.
According to the heavily redacted probable cause affidavit filed in the original 2017 case, Lee is alleged to have made threats to cause serious physical injury or substantial property damage to an unknown number of people.
Some of the threats were allegedly captured during a phone conversation April 5, 2017. The case was officially filed May 30, 2017.
Judging by court records, the problems between Lee and those he is alleged to have threatened or harassed appear to stem from complicated and sometimes volatile domestic situations.
A number of cases involving Lee have been handled in the Domestic Relations Division of Baxter County Circuit Court, including petitions for orders of protection, divorce and custody proceedings.
When he was sentenced more than three years ago, it was mentioned the threats Lee allegedly made were apparently directed at his ex-wife, her then boyfriend and the boyfriend's family.
At one point, Lee's visitation rights with his minor child were suspended by the court, until he underwent therapy and/or counseling for anger management and provided proof to the court he was capable of conducting visitation by telephone with the minor child.
A petition to revoke Lee's probation was filed April 15, 2019 based on new charges of terroristic threatening, harassing communications and third-degree domestic battery.
Lee entered a plea of not guilty to the allegations in the revocation petition on May 9, 2019. Yellville lawyer Ben Gibson entered his appearance as Lee's attorney of record.
Lee's bond was set at $10,000.
A revocation hearing scheduled for May 23, 2019 was rescheduled and rescheduled again on June 27, 2019.
In July last year, an amended petition to revoke Lee's suspended sentence was filed. In addition to other violations of the terms and conditions of his probation, it was alleged Lee had an order of protection filed against him.
Revocation hearings were set and rescheduled at the request of the defense on both Aug. 22 and Sept. 5 last year.
A hearing was set for Oct. 3, 2019, but was canceled, after Gibson filed paperwork indicating he would mount a defense based on mental disease and defect. The court approved psychological testing for Lee.
Because of a variety of factors, it can take a long period of time for the circuit court to receive a report on whether the defendant is considered able to proceed in his case and to be held accountable for his actions.
The COVID-19 pandemic caused even greater delays than normal.
The order for the examination was issued Oct. 7 2019 — one year, one month and 13 days ago.
No activity beyond routine review is scheduled during the period after a court approves a psychological examination, and a report is received.
This has led to Lee's revocation hearing being postponed and rescheduled seven times at the request of the defense.
Continuances were granted on Jan. 9, Feb. 13, March 26, May 9, May 21, July 16 and Sept. 3.
Fourteenth Judicial District Prosecutor David Ethredge said his office has pushed and prodded the Arkansas Department of Human Services (DHS) to get the psychological examination done. He said the situation with DHS scheduling an examination for Lee is not something his office has control over.
"This is not a local decision, It's a decision made by a state agency, and we have been to everyone we can think of at that level to put pressure on DHS," Ethredge said.
Something apparently did work, however. Gibson announced in circuit court Thursday the evaluation has now been scheduled for this week.
So, 1,273 days from the date the original charges were filed against Lee, the case is still open and still stalled. The next step is to wait for receipt of the evaluation report.
WebReadyTM Powered by WireReady® NSI