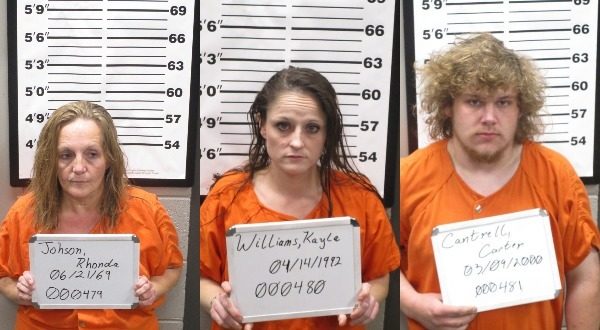 A trio of suspected burglars, including two with Ozark County ties, was reportedly held at gunpoint by a resident when they were caught at a remote Douglas County home on Halloween night.The Ozark County Times reports 51-year-old Rhonda Johnson of Gainesville and 28-year-old Kayla Williams of Hartville and formerly of Theodosia were two of the three people reportedly caught burglarizing the home.The pair, along with a third suspect, 20-year-old Carter Cantrell of Marshfield, were arrested and have been charged in connection with the crime.
According to Douglas County Sheriff Chris DeGase, his office received a call at 6:38 p.m. Oct. 31 from a man who was leasing a residence near U Highway and County Road 117, a rural area southeast of Mansfield.
The caller reportedly told the dispatcher he had caught three people, who appeared to be under the influence of drugs, inside his residence.
A Douglas County deputy reported finding Johnson, Williams and Cantrell sitting in the backyard of the home.
After he placed the suspects in handcuffs and read them their Miranda rights, all three reportedly agreed to speak with him. The deputy wrote in his report that all three suspects admitted to being inside the home.
A glass pipe was reportedly found in a truck Williams and Cantrell arrived in. Cantrell reportedly told the officer there were no other illegal items in the vehicle. Williams, however, told the officer she had a pistol inside her purse.
"While conducting a probable cause search of the vehicle, I located several other items of drug paraphernalia, along with two baggies of a clear crystal substance and ten white pills marked R180," the deputy wrote.
In the bed of the truck, a record player, an old typewriter and a cooler reportedly taken from inside the home were located.
A search of a second truck also led to drugs and paraphernalia.
The license plate on the truck Williams and Cantrell arrived in had been reported as stolen from Hartville, near where Williams lives. A search of the VIN number on the truck itself indicated it had been reported stolen from Greene County. A closer look at the vehicle indicated it had been spray painted. Four cans of spray paint were found in the floorboard behind the driver's seat.
Johnson is charged with second-degree burglary, possession of methamphetamine and stealing. Her bond like those of her co-defendants was set at $15,000.
She is charged as a prior and persistent offender after pleading guilty to two or more felonies in the past, including a 2016 conviction of stealing a controlled substance and a 1994 conviction of general stealing. Both prior cases were in Douglas County.
Williams and Cantrell are charged with second-degree burglary, tampering with a motor vehicle, possession of methamphetamine, possession of a firearm, while possessing methamphetamine, and stealing.
Cantrell has been released from jail after posting bond. His bondsman appeared in court on Cantrell's behalf and said the Douglas County man was in the Webster County jail on an unrelated case.
WebReadyTM Powered by WireReady® NSI