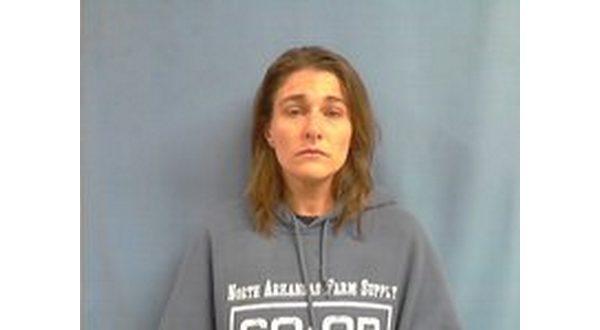 Photo: Charly M. Sisk
A Searcy County woman is being held in the Stone County Detention Center on drug charges after she allegedly grabbed a deputy by the shirt and screamed, "Arrest me now."
After being arrested and placed in a patrol car, officers report 30-year-old Charly M. Sisk of Harriett climbed into the front seat of the vehicle and began talking on the police radio, saying she was detained and someone needed to come get her.
According to the probable cause affidavit, the incident began when Stone County deputies were dispatched to the scene of a hit-and-run accident on Berry Lane Nov. 26.
The vehicle leaving the scene was spotted near Iron Mountain Road and was observed crossing the fog line approximately four times. The driver, later identified as Sisk, was unable to maintain operation of her vehicle inside the traffic lane.
When the deputy stopped the vehicle and approached the driver, he recognized Sisk and knew she had a failure to appear warrant out for her arrest.
As the officer approached the vehicle, Sisk was reported saying, "Arrest me. They are after me. People are trying to kill me. I took some dope, and I got dope."
She then handed the deputy a blue zipper pouch. It was when he took the pouch and opened it that Sisk reportedly grabbed him by the shirt.
Inside the pouch, the deputy observed a baggie of a white substance field testing positive for methamphetamine and numerous syringes, as well as a smoking pipe used to ingest the illegal drug.
An irate and agitated Sisk was removed from her vehicle and handcuffed. While walking to the patrol vehicle, Sisk reportedly kept trying to jerk away from the deputy while screaming, "Take me to jail."
As she was being placed in the patrol vehicle, Sisk reached into a hoodie pocket and removed a syringe with the cap off. Several caps were inside the pocket.
While attempting to secure Sisk in the rear of the patrol unit, a male subject, later identified as the woman's boyfriend, approached the deputy and demanded he let her go.
He was instructed to leave, did not do so and was arrested for obstructing governmental operations. His identity was not provided in the affidavit.
The distraction with Sisk's boyfriend provided her the opportunity to climb into the front seat of the patrol unit and access its radio.
Other officers arrived on the scene and secured Sisk in a vehicle with a caged rear seat.
Sisk reportedly told law enforcement she had tasted the meth that evening, and it didn't taste right. She said she wanted it tested for poison.
With regard to the hit-and-run accident, Sisk said she needed to get out of the location on Berry Lane, so she pushed the other vehicle out of her way.
She is charged with
* Possession of a controlled substance, Schedule II (crystal methamphetamine), Class D felony
* Possession of drug paraphernalia with the purpose to use crystal methamphetamine, Class D felony
* Reckless driving, unclassified misdemeanor
* Leaving the scene of and accident with property damage, Class A misdemeanor
Her bond was set at $1,500.
WebReadyTM Powered by WireReady® NSI