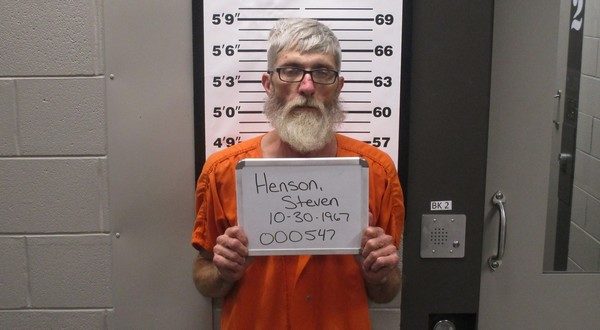 A Tennessee man found slumped over the steering wheel of a running vehicle has been arrested on multiple charges.
Douglas County Sheriff Chris Degase says his department received a call early Dec. 2 of suspicious activity near the Douglas and Ozark County line in the Dora area.
In a Facebook post, Sheriff Degase says contact was made with the male subject, later identified as 53-year-old Steven Henson, and it was determined he was not experiencing any medical issue. However, Henson was exhibiting signs of being under the influence.
He was taken into custody, and at that time, it was discovered he was in possession of methamphetamine, paraphernalia and firearms.
Henson was brought to the Douglas County Sheriff's Office for a 24-hour hold. All information was sent to the Douglas County Prosecuting Attorney's Office and a warrant was later received for the following:
– Possession of a controlled substance except 35 grams or less of marijuana/synthetic cannabinoid (meth), Class D felony
– Unlawful use of weapon-subsection 11-possessession of weapon and a felony controlled substance, Class E felony
– Unlawful possession of drug paraphernalia, Class D misdemeanor
This warrant was issued with a $15,000 cash only bond, with conditions of CPS or similar bond supervision, twice-weekly drug testing, no firearms or ammunition, and a 7 p.m. to 7 a.m. curfew.
WebReadyTM Powered by WireReady® NSI