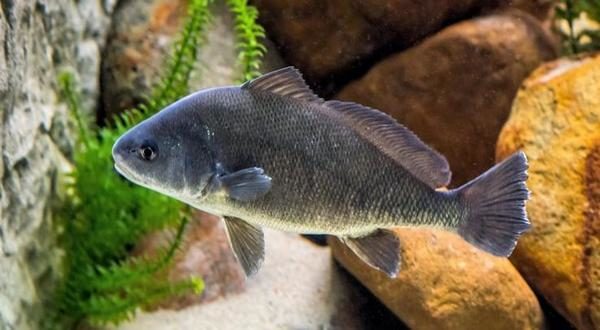 The Arkansas Game and Fish Commission (AGFC) has announced freshwater drum have been located in Norfork Lake.
"When in the field, we occasionally come across things that make us scratch our heads," says Jeremy Risley, AGFC District Supervisor. "On Sept. 11, we sent an email about observing a turtle swimming across Norfork Lake. Being as it is 2020, we wanted to provide another unusual observation that occurred on Norfork Lake."
Freshwater Drum, often referred to as "gaspergou," are native to Arkansas. Commonly found in large rivers, lakes, and reservoirs, drum derives its name from mature males' ability to contract a unique set of muscles that vibrate against the swimming bladder to produce a loud drum-like sound, Risley explains.
The Fishes of Arkansas and Fishes of Missouri books both indicate Freshwater Drum are present in all of the Upper White River reservoirs, except for Norfork Lake, as well as in the White River below Bull Shoals Lake. Previous biologists have also indicated that they have never observed Freshwater Drum while sampling Norfork Lake, Risley says.
"With the craziness of 2020, it isn't surprising that we just happened to collect several Freshwater Drum for the first time on Norfork Lake," Risley says. "Individuals were sampled in different areas of the reservoir while electrofishing for black bass this fall. Shortly after that, Darrell Binkley of Bink's Fintastic Guide Service called us to report catching one. In his 29 years of guiding, he said that was the first one he had caught on Norfork Lake.
Risley adds that while AGFC is unsure how the Freshwater Drum got into Norfork lake, they do not believe the introduction will impact the existing fisheries in Norfork Lake.
WebReadyTM Powered by WireReady® NSI