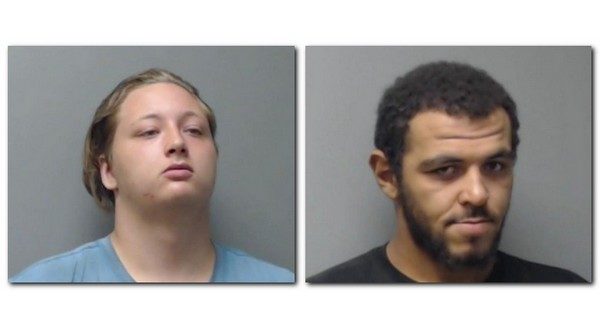 Photos: (from left) Matthew Braden and Lakota Tripp
The second of two Kansas men, who stole vehicles to make their way to Arkansas and ended up crashing one of them in the parking lot of the Fraternal Order of Eagles Aerie at Midway, pled guilty to the charges against him in Baxter County Circuit Court Thursday.
Twenty-one-year-old Matthew Braden was sentenced to six years probation and ordered to pay $2,500 restitution for damage done to a sign at the Eagles Aerie.
The other man involved in the incident, 24-year-old Lakota Tripp was sentenced to five years in the Arkansas Department of Correction, with three suspended and two to serve in December last year.
At the time of the crash, in mid-September 2019, Tripp and Braden, who both listed addresses in Wichita, Kansas, were being chased by a Baxter County deputy sheriff responding to a stolen wallet call.
The call reporting the stolen wallet came from a woman at a park in the Bull Shoals area. The victim said two males driving a black SUV got into her vehicle and took property.
A sheriff's deputy responding to the theft call spotted the suspect vehicle on State Highway 178. He turned around and attempted a traffic stop, but the car, driven by Braden, rapidly accelerated.
According to the probable cause affidavit, the deputy reported reaching speeds of 90-100 mph during the chase.
When Braden veered into the gravel parking lot of the Fraternal Order of Eagles, he lost control of the vehicle and it overturned, coming to rest on its wheels.
According to a press release from Baxter County Sheriff John Montgomery, even after the accident, Braden attempted to continue the chase. The engine of the vehicle the two men were in was reported revving, and the tires spinning.
Both men were taken into custody.
According to court records, Braden said the pair had stolen a truck in Wichita, Kansas, belonging to a relative of his, drove it to Oklahoma where they ran out of gas.
They then took an SUV at a Ponca, Oklahoma, dealership for a test drive that didn't end until the vehicle crashed in the Eagles' parking lot at Midway.
Braden is alleged to have told investigators he was coming to Arkansas because someone in the state had "ruined his life," and he intended to physically attack the person.
Braden has been a prisoner in the Baxter County Detention Center for a year and three months.
WebReadyTM Powered by WireReady® NSI