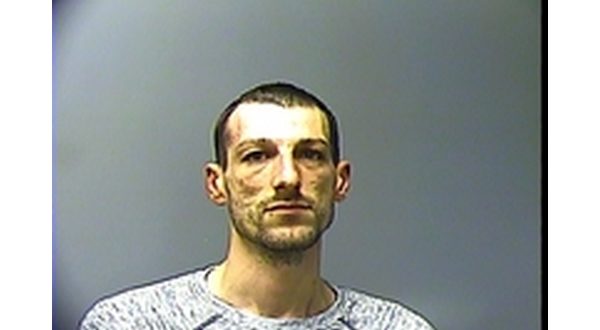 Even before a Mountain Home man could go on trial for breaking into a retail establishment and taking thousands of dollars worth of jewelry, he was rearrested and charged with other crimes.Thirty-three-year-old Ryan Amyx made an appearance in Baxter County Circuit Court earlier this month and entered a plea of not guilty to his newest charge.
He was ordered to reappear in July.
In the older case, Amyx was allegedly caught on surveillance cameras both inside and outside the business, located on U.S. Highway 62/412 East in mid-September 2018.
At one point, the person who broke into the store could be seen attempting to hide himself by crouching behind a display counter, as the sliding door was opened and trays of jewelry removed. He was also seen taking money from the cash register.
The perpetrator was reported to have been wearing a dark-colored hooded jacket and "mechanic's gloves." He was also carrying a backpack.
The owner of the business called the Baxter County Sheriff's Office several days after the break-in to provide information he had been given about the missing jewelry.
It was at that point Amyx was developed as a suspect. He was alleged to have been trying to sell a large amount of jewelry in Marion County.
The owner of the Mountain Home business said Amyx had come into his store on numerous occasions, and he was familiar with him.
Investigators discovered Amyx has sold what was described as a "distinctive-looking" ring to a pawnshop in Springfield on Oct. 2, 2018 and had sold rings to a Baxter County pawnshop on two occasions the same month.
The business owner identified the rings as items of jewelry taken from his store.
Amyx was located and interviewed. He gave investigators several stories about how he obtained the rings. He said one of them had been given to him by his grandmother, and he had "felt bad" about selling it. The grandmother told authorities she had never seen the ring.
Amyx also said he had obtained some of the rings from a female friend who had recently died in an automobile accident.
Amyx was arrested and booked on charges stemming from the break-in and burglary.
Court records indicated Amyx spend some time in a rehabilitation program.
In January, Amyx rejected a plea offer made by the state in the business break-in and said he wanted to go on trial.
A trial date in mid-May next year was set in the original case.
In late November, Amyx was arrested on new charges stemming from two break-ins at an apartment in a Mountain Home complex.
In the first incident, items were reported to have been taken from the unit valued at almost $1,000.
Just two days after the initial break-in, the victim came home and found Amyx and a female sleeping inside the residence.
Officers searched a backpack belonging to the female and found items of clothing with store tags still attached.
The victim pointed officers to a car parked near the apartment that appeared to have items taken from the apartment inside.
A search warrant was obtained and the car checked. The victim identified property inside the vehicle having been stolen from the apartment.
The vehicle search also turned up suspected methamphetamine, and Amyx is said to have admitted he had traded one of the stolen items for the drug.
WebReadyTM Powered by WireReady® NSI