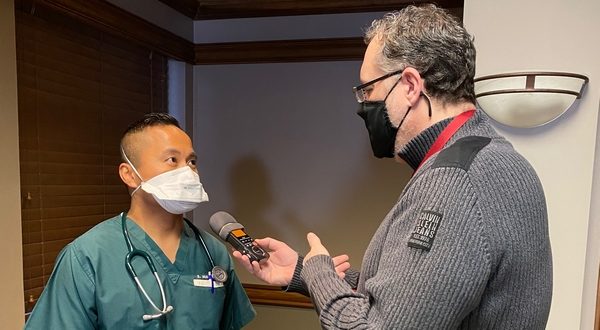 Photo: Dr. Brian Malte, a pulmonologist at Baxter Regional Medical Center, discusses the impact of COVID-19 on his patients after receiving one of the first doses of vaccine in Baxter County.
Months of scientific and medical research culminated with the release of the first two vaccines against the coronavirus in the fight to slow the COVID-19 pandemic in early December.
The vaccine-development process, which usually takes years, was performed in less than 10 months. Locally, the first vaccinations were given at Baxter Regional Medical Center (BRMC) on Dec. 17.
Dr. Brian Malte, a pulmonologist at BRMC, has been on the front lines in fighting the pandemic and was one of the first to receive the vaccine. His experience battling the mysterious illness had been a complete eye-opener. Dr. Malte welcomed the arrival of the vaccine after seeing the disastrous effects the disease causes.
COVID-19 has shown no rhyme or reason on how it affects those that contract the virus. Some never get sick and remain asymptomatic, some become mildly ill, others require hospitalization and intensive care, while over 322,000 and counting have lost their lives.
Malte says the coronavirus and the COVID-19 it causes are unlike anything ever encountered.

Listen:


The arrival of the vaccine, while heralded as a medical marvel, has been greeted with mixed responses by the American public. Some question possible unknown effects, others doubt the effectiveness. The Centers for Disease Control and Prevention defines a vaccine "as a product that stimulates a person's immune system to produce immunity to a specific disease, protecting the person from that disease."
Dr. Malte says the vaccine is a key tool in ending the pandemic for multiple reasons.

Listen:


Those that develop the worst symptoms from COVID-19 can end up on an arduous and unchartered journey to recovery, Malte says.

Listen:


Receiving the vaccine and developing the antibodies it produces will not allow the immediate ending of wearing masks and other safety precautions. But Malte says vaccination is the key to stopping the spread of the virus, to ending the pandemic and some day reaching a return to normalcy.

Listen:


Currently, vaccination remains in the rollout stage of Phase 1, the inoculation of all healthcare workers and long-term care residents. Phase 1B, frontline essential workers and those over the age of 75, and Phase 1C, all other essential workers and those aged 65 to 74 and persons aged 16-64 years with medical conditions that increase the risk for severe COVID-19, will follow.
WebReadyTM Powered by WireReady® NSI