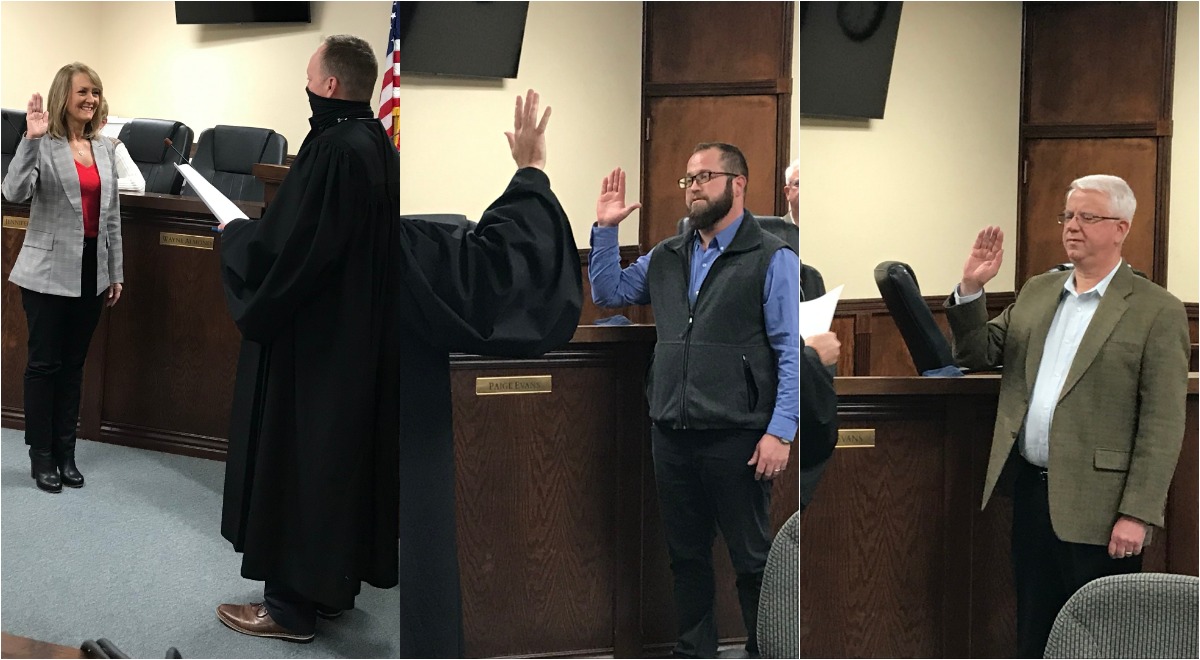 Photo: New Mountain Home City Council members (from left) Susan Stockton, Nick Reed and Carry Manuel were sworn in by Circuit Judge Jason Duffy.
Voters in the City of Mountain Home will get their opportunity to approve a proposal to overhaul the city's parks system and construct a new community center at McCabe Park on March 9.
After swearing in three new members Thursday night – Carry Manuel, Nick Reed and Susan Stockton – the Mountain Home City Council unanimously approved three ordinances to call for a special election to levy a one-half cent sales and use tax to finance the construction and a one-quarter sales and use tax for maintenance and operation of the proposed Mountain Home Community Center Complex facility.
The total cost of the proposal is estimated at $38.4 million, $36.2 million of which would be used to not only construct the new facility, but overhaul features at every site in the Mountain Home parks system.
A special election for the parks project had been scheduled for May of 2020, but was canceled due to concerns about the economic impact of the COVID-19 pandemic. The sales-tax performance remained strong throughout 2020, with the city seeing slightly over a 9% increase in collections.
Paul Phillips, senior managing director of Crews & Associates, the firm that would be tasked with handling the bond issue, updated the council if tax revenues remain at current levels, coupled with bond rates being at some of their lowest ever, the half-cent tax could be retired in as few as 16 years. Increases in tax collections would result in a quicker payoff.
After the facility is paid off, the half-cent tax would sunset. The quarter-cent tax would be permanent for not only maintaining and operation of the community complex, but the parks system as well.
The council also heard the need for passage of both ballot measures. Passage of only the half-cent tax would allow the facility to be built, only to leave the city without the maintenance and operation funds provided by the quarter-cent tax.
The sales tax rate inside the Mountain Home city limits would rise to 9.875 percent with approval of both proposed measures. The new taxes would amount to an additional 75 cents per $100 spent in the city, according to estimates.
The council also took care of the annual housekeeping measure setting forth the organization of the city. The council also selected its members to serve on the Mountain Home Advertising and Promotion Committee, with Bob Van Haaren being reelected, and Jennifer Baker approved as a new member.
WebReadyTM Powered by WireReady® NSI