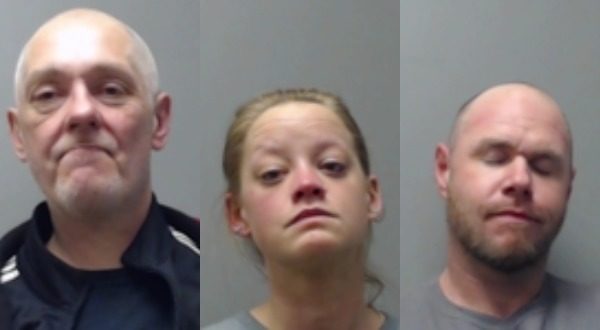 Photos: (from left) James Seawell, Bethani Beyer and Stephen Osborne
A Baxter County man exiting a Mountain Home residence as law enforcement arrived to follow-up on a murder investigation has been arrested on drug and weapon charges. Two other people inside the residence have also been arrested.
According to the probable cause affidavit, officers from the Mountain Home Police Department, the Baxter County Sheriff's Office and Arkansas Probation and Parole encountered 52-year-old James Seawell of Mountain Home leaving the home of 28-year-old Bethani Beyer along East 13th Street Dec. 22. Seawell is a parolee with an active warrantless search waiver on file.
Officers reportedly found two bags of methamphetamine and a 9mm pistol on Seawell's person and placed him under arrest.
Inside the residence, officers located Beyer and 37-year-old Stephen Osborne of Midway.
As they searched the home, officers located methamphetamine and drug paraphernalia, including several plastic baggies used for the purpose of packaging and selling narcotics. They also located a revolver in a holster and $560 in currency.
The three are charged with
– Possession with purpose to deliver meth cocaine, Class B felony
– Possession of drug paraphernalia for use of ingestion of meth, Class D felony
– Possession of drug paraphernalia for the purpose of selling meth, Class B felony
– Possession of firearms by certain persons, Class D felony
– Drugs and firearms simultaneous possession, Class Y felony
Bonds for the three were set at $25,000 each.
The affidavits do not provide any further details on the murder investigation officers were following-up on.
WebReadyTM Powered by WireReady® NSI