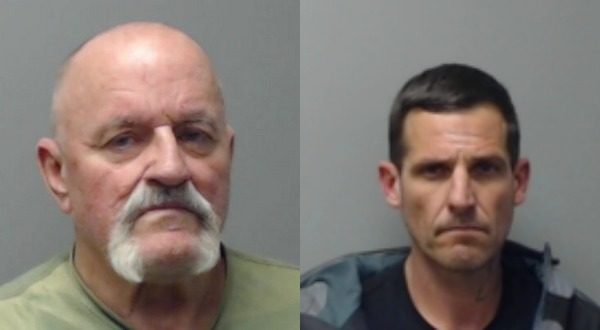 Photo: Thomas E. Harvey (left) and James Michael Julson, alias Mark Swangle
A rural Mountain Home man faces a hindering apprehension charge, along with felony drug charges, after he allegedly lied to police about another man's identity.
Sixty-four-year-old Thomas E. Harvey was arrested by the Baxter County Sheriff's Office (BCSO) Tuesday at his residence on County Road 56. He faces felony charges of maintaining a drug premise and possession of drug paraphernalia, along with misdemeanor hindering apprehension and a penalty enhancement of being a habitual offender. Harvey is being held without bond on a parole hold.
The arrest was a culmination of several incidents, which originally began on Nov. 3 of last year. On that date, the sheriff's office and other law enforcement agencies conducted a probation home visit. While authorities were there, they allegedly located drug paraphernalia containing methamphetamine reside.
While authorities were on scene, they observed a motorcycle with two people aboard slowly drive past the scene, turn around and then pull into the driveway of the residence. An investigator approached the riders of the motorcycle to identify them and find out why they were stopping. A male told officers his name was "Mark Swangle" and provided other identifying information. A computer check revealed no such name on file, but Harvey allegedly spoke up and confirmed the man's name was Mark Swangle.
On Monday, the Mountain Home Police Department arrested a man named James Julson on outstanding warrants. An investigator at the sheriff's office viewed Julson's booking photo and recognized the man as the same one who had called himself Mark Swangle on Nov. 3 at Harvey's residence. Further investigation revealed Harvey and Julson jointly own a vehicle and have registered it together.
"Obviously, they know each other very well, and Harvey lied about Julson identity because of the warrants," Sheriff John Montgomery says in a news release.
Authorities paid another visit to Harvey's residence to apprehend him on the hindering charges, and during a check of the home, officers found multiple articles of drug paraphernalia, including syringes, spoons, meth pipes and other items.
A check of Harvey's prior history with law enforcement revealed 10 additional incidents of documented drug activity at his residence in the past 29 years.
Agencies involved in the arrest and search were the Baxter County Sheriff's Office, Mountain Home Police Department, 14th Judicial District Drug Task Force, and the Arkansas Department of Community Corrections.
WebReadyTM Powered by WireReady® NSI