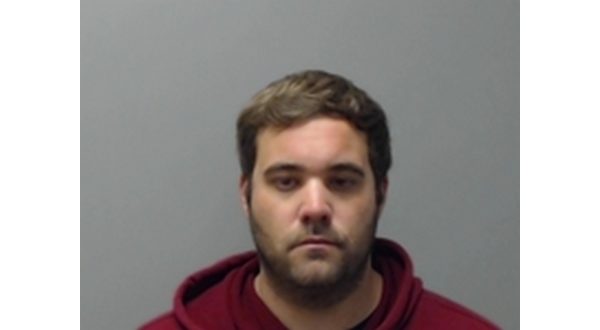 Photo: Tyler Blake Lee
On Aug. 24, 2017, a Henderson man stood before the bench in Baxter County Circuit Court and pled guilty to multiple counts of terroristic threatening and making harassing communications.
Twenty-nine-year-old Tyler Blake Lee was before the same bench in the same courtroom in connection with the same case Monday – three years, five months and a day after his initial guilty plea in 2017.
He appeared Monday for a hearing on the state's request to revoke his suspended sentence. After a hearing lasting more than an hour, in which a number of witnesses took the stand, Circuit Judge John Putman revoked Lee's probation and sentenced him to three years in prison. Lee was taken to the Baxter County jail, where he will await transportation to the prison system.
According to the heavily redacted, probable-cause affidavit filed in the original 2017 case, Lee is alleged to have made threats to cause serious physical injury or substantial property damage to an unknown number of people.
Some of the threats were made in the form of messages left on one of the victim's phones. The calls, that were laced with profanity, were played during the revocation hearing.
Judging by court records, the problems between Lee and those he is alleged to have threatened or harassed appear to stem from complicated and sometimes volatile domestic situations.
A number of cases involving Lee have been handled in the Domestic Relations Division of Baxter County Circuit Court, including petitions for orders of protection, divorce and custody proceedings.
At one point, Lee's visitation rights with his minor child were suspended by the court, until he underwent therapy and/or counseling for anger management and provided proof to the court that he was capable of conducting visitation by telephone with the minor child.
A petition to revoke Lee's probation was filed April 15, 2019, based on new charges of terroristic threatening, harassing communications and third-degree domestic battery.
Lee entered a plea of not guilty to the allegations in the revocation petition on May 9, 2019. Yellville lawyer Ben Gibson entered his appearance as Lee's attorney of record.
Lee's bond was set at $10,000.
A revocation hearing scheduled for May 23, 2019 was rescheduled and rescheduled again on June 27, 2019.
In July 2019, an amended petition to revoke Lee's suspended sentence was filed. In addition to other violations of the terms and conditions of his probation, it was alleged an order of protection had been filed against Lee.
Revocation hearings were set and rescheduled at the request of the defense on both Aug. 22, and Sept. 5, 2019.
A hearing was set for Oct. 3, 2019, but was canceled, after Gibson filed paperwork indicating he would mount a defense based on mental disease and defect. The court approved psychological testing for Lee.
Because of a variety of factors, it can take a long period of time for the circuit court to receive a report on whether the defendant is considered able to proceed in his case and to be held accountable for his actions.
The COVID-19 pandemic has caused even greater delays than normal.
The order for the examination was issued Oct. 7, 2019.
No activity beyond routine review is scheduled during the period, after a court approves a psychological examination, and a report is received.
This led to Lee's revocation hearing being postponed and rescheduled at least seven times at the request of the defense.
In addition, subpoenas have been issued multiple times in anticipation of the hearing, withdrawn and then reissued, after continuations were sought and granted.
The fact that activity resumed in the case indicates Lee was found fit to stand trial and to be held criminally responsible for his actions.
Gibson announced in court Jan. 14 that the defense would not challenge the results of the exam.
So, 1,273 days from the date the original charges were filed against Lee, the case was finally wrapped up.
WebReadyTM Powered by WireReady® NSI