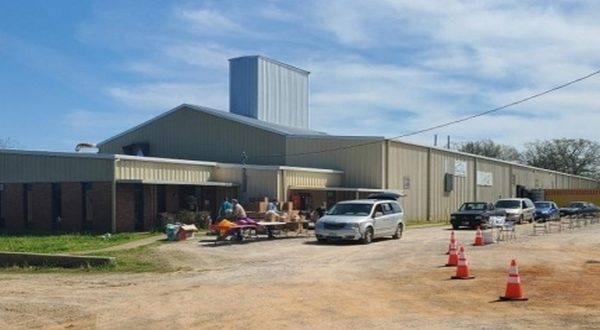 Photo: Courtesy Ozark County Times
The Ozark County Food Pantry in Gainesville is among seven entities sharing in more than $200,000 worth of infrastructure and equipment grants from the Ozarks Food Harvest of Springfield.
The Ozark County Food Pantry, located on U.S. Highway 160 and Missouri 5 west of the Gainesville business district, is among seven receiving new walk-in freezers. In addition to donating the 16-by-11 foot units, funding was provided for the concrete pad pouring, delivery, assembly and electrical installation.
"We know that food insecurity rates are higher in rural communities and will continue to increase during COVID-19," says Bart Brown, president/CEO of Ozarks Food Harvest. "We're so grateful to be able to provide assistance to our agencies to ensure storage space isn't a barrier to serving more folks in their communities."
The Springfield agency says, "Rural areas affected by COVID-19 were targeted for donations, as they experienced greater job losses, specifically in manufacturing and tourism, and increased food insecurity. This capacity building investment is part of Ozarks Food Harvest's long-term strategic plan to optimize food access in rural communities who lack infrastructure and equipment for increased food distribution."
Ozarks Food Harvest, the Feeding America food bank for southwest Missouri, was a recipient of a Feeding America grant providing funding for the commercial freezers. The funding also allowed The Food Bank to hire temporary staff, increase truck routes and purchase additional equipment.
"Many of the families we serve are faced with tough decisions during COVID-19, and a donation like this will make a huge impact," says Rhonda Suter, administrator of the Ozark County Health Department and president of the Ozark County Food Pantry. "Thanks to Ozarks Food Harvest, we're able to accept and distribute more food to families now and in the future."
Last year, the Ozark County Food Pantry distributed more than 225,552 pounds of food valued at $240,061 in partnership with Ozarks Food Harvest. The organization typically serves more than 350 families and 600 individuals per month in Ozark County.
At the time of the announcement, Ozarks Food Harvest officials said the agency is the largest COVID-19 related donor to charities in southwest Missouri. Since April, Ozarks Food Harvest has hosted more than 75 mobile food pantries, purchased an additional $2.2 million worth of food and provided a record-breaking 14 million meals to its network of 270 hunger-relief organizations.
WebReadyTM Powered by WireReady® NSI