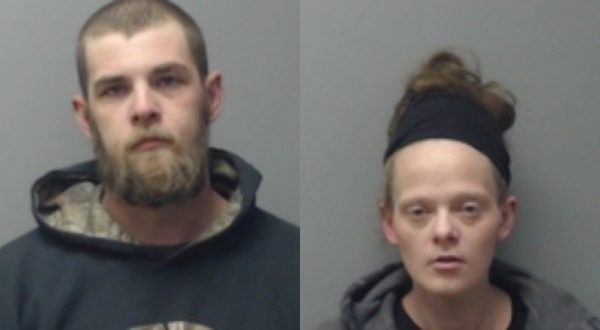 Photos: Ryan J. Eberley and Alexandra L. Neel
A pair of 27-year-old Gassville residents was arrested Sunday on multiple felony charges, after a child in their care tested positive for methamphetamine.
Ryan J. Eberley and Alexandra L. Neel face charges of introducing a controlled substance into the body of another person, a Class Y felony, Class D felonies of endangering the welfare of a minor and two counts of possession of drug paraphernalia. Bond for Eberley and Neel is set at $50,000 each. A Class Y felony is the most serious classification of crime in Arkansas not punishable by death.
According to a probable cause affidavit from the Gassville Police Department issued on Thursday, a 19-month old child was removed for the pair's home by the Arkansas Department of Human Services (DHS), and a hair follicle drug test was conducted. The hairs were sent from Arkansas Children's Hospital to the United States Drug Testing Laboratories, which reported the sample was 200 times the cutoff level for detection of methamphetamine.
The child's doctor told authorities with its medical condition and complex medical-care requirements, the child may be at "particular risk for adverse outcomes if the caregivers are under the influence of substances and unable to tend to the 24-hour care and needs."
DHS officials also observed two glass pipes commonly used to ingest methamphetamine in a drawer within the couple's bedroom they share with the child.
WebReadyTM Powered by WireReady® NSI