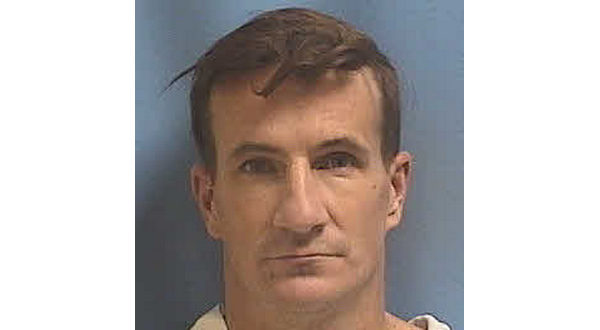 Photo: Brandy Brian Barnes
A man whose criminal history includes breaking into the same house twice within a span of just three days and allegedly stealing cars appeared during a session of Baxter County Circuit Court Monday.
Forty-one-year-old Brandy Brian Barnes was facing charges in two open criminal cases in Baxter County.
He pled guilty to the charges against him and was given six years in prison to be served concurrently with time he is already serving.
Barnes is an inmate in the Cummins Unit of the state prison system.
Barnes was accused of taking a vehicle from a woman with whom he had once had a relationship and filing false paperwork to show he owned the car.
The victim made a report in early November last year alleging Barnes had taken off in her car.
Barnes and the car were found in Hidalgo County, Texas, about 900 miles south of Mountain Home on the U.S./Mexico border. He had allegedly used the false paperwork to sell the vehicle to an unwitting victim in Texas. He was charged with the car theft and with forging papers so he could sell the vehicle.
According to court documents, Barnes was arrested in Texas and extradited to Arkansas in early December.
He was transferred to the Cummins Unit of the state prison system on a parole violation just before Christmas.
Barnes is also in trouble in Hempstead County for allegedly being in possession of methamphetamine and a stolen car.
His arrest came when he was pulled over for speeding on Interstate-30 by an Arkansas State Police trooper Sept. 11 of last year.
When checks were run, it was determined the vehicle Barnes was driving had been reported stolen from Searcy.
Methamphetamine was also found in the vehicle.
According to Hempstead County court records, a failure to appear warrant was issued for Barnes in late October last year.
A number of criminal cases were opened against Barnes in Baxter County in 2017-2018.
In one earlier set of Baxter County charges, Barnes was accused of breaking into a residence along Buford Road twice within a 72-hour period.
Baxter County deputies were first called to the house on Jan. 12, 2017 when a neighbor noticed a strange vehicle parked at the residence.
The neighbor said there were three unknown individuals loading items into the vehicle.
The homeowners were in the process of moving to Northwest Arkansas and had removed most of their possessions.
The trio of potential suspects had left the area prior to the deputies arriving on the scene.
Entry had been made by kicking in a set of French doors in the rear of the house.
The victim was contacted by telephone and guided investigators to various areas in the home, where he had hidden firearms.
Some of the weapons could not be found.
The victims called the sheriff's office three days later to report the garage door at their Buford Road residence was up about a foot.
When deputies arrived, they heard someone in the house. When they announced their presence, the person – later identified as Barnes – bolted from the house and ran for a distance before being caught.
He is reported to have had cufflinks, a personalized lighter, watches and wooden handle grips for pistols. Photos of the items were sent by text message to the victim who identified the property as belonging to him.
Investigators found a backpack with burglary tools and a flashlight with the lens taped so light could not be detected and a revolver.
It was determined the pistol in the backpack was one of the weapons that had been stolen from the house during the first break-in.
The charges that have been filed against Barnes in his various cases include being a felon in possession of a firearm, drug and drug paraphernalia possession, residential burglary and theft of property.
In addition he is charged with theft by receiving, forgery and fleeing.
WebReadyTM Powered by WireReady® NSI