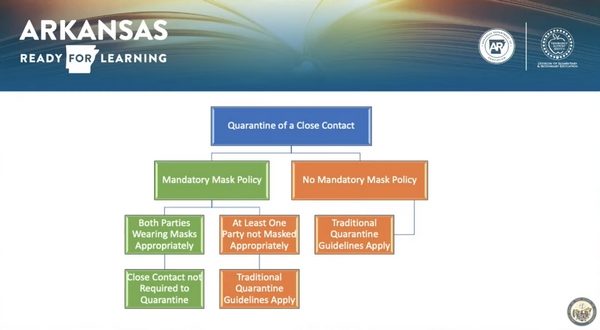 Mountain Home Public Schools District has announced it is making no immediate changes to its COVID-19 masking policy.
"Until further notice, we will continue with our policy of students in grades 3-12 and staff wearing masks when 6 feet of social distance is not possible," says Superintendent Dr. Jake Long in a message distributed to all district patrons and the media Tuesday afternoon.
The announcement comes as a response to Gov. Asa Hutchinson's lifting of a statewide mask mandate Tuesday afternoon. While making the announcement, the governor and Secretary of Education Johnny Key did set forth protocols for schools to follow in relation to quarantining students due to COVID-19. Schools who abandon the mask mandate face a much tougher process.
Districts with no mask mandate must quarantine all students who are close contacts, as has been the state's requirement since the school year began. Schools who maintain the mask mandate, do not have to quarantine close contacts, if both students are "wearing masks appropriately." If one of the two students is unmasked or not wearing a mask, traditional quarantine rules will apply.
"We have accomplished a feat that many school systems in our state and across our nation have been unable to do – we have been able to hold school on campus five days a week
since August," Long says. "I deeply appreciate the support and cooperation you have given us. Please help us finish strong."
Long says he expects to have more information to share with the public on mask guidelines in the near future.
WebReadyTM Powered by WireReady® NSI