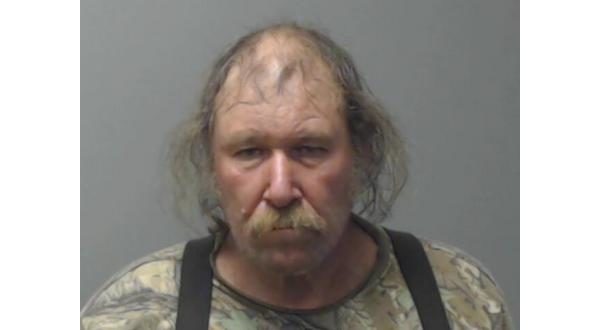 A parole absconder, 60-year old Austin Earl Dutton, reportedly fled from deputies Tuesday on an all terrain vehicle (ATV) and was captured a short time later, according to a news release from Baxter County Sheriff John Montgomery.
Deputies were conducting surveillance Tuesday on a residence on Baxter CR 27. The residence belonged to Dutton, who was known to have outstanding arrest warrants. The Sheriff's Office had received complaints that Dutton had been driving his pickup truck up and down Baxter CR 27 in a reckless manner and did not have a driver license. Deputies received information that Dutton was on the south end of his property on an ATV and was shooting a gun.
As deputies went to that area, they could hear gunfire, Montgomery said. A deputy saw Dutton at the end of the field. As the deputy approached, he watched Dutton made motions with his arms as if he was about to shoot a gun and then fired a round. When Dutton saw the deputy, he reportedly jumped on the ATV and fled across a creek and up a hill into the woods. Deputies converged on that area in an attempt to intercept Dutton. Deputies could not see him, but they could hear the ATV running in the woods. A short time later, Lt. Rick Lucy found Dutton in the Rosswood Subdivision, which is south of the area Dutton had fled from. Dutton was hiding on the ground behind his ATV. He was arrested and taken into custody at that time.
Deputies then returned to the area where Dutton had first been spotted, and they retrieved a .22 caliber rifle with a cut off stock on the ground, as well as a partial box of .22 caliber ammunition and some spent shell casings. It appeared that Dutton had been shooting into an old washing machine.
Dutton was taken to the Baxter County Jail and faces felony charges of Possession of Firearm by Certain Persons (convicted felon) and parole violation. He also faces misdemeanor charges of fleeing and failing to appear in court.
He is currently being held without bond awaiting an appearance in Circuit Court later this month.
WebReadyTM Powered by WireReady® NSI