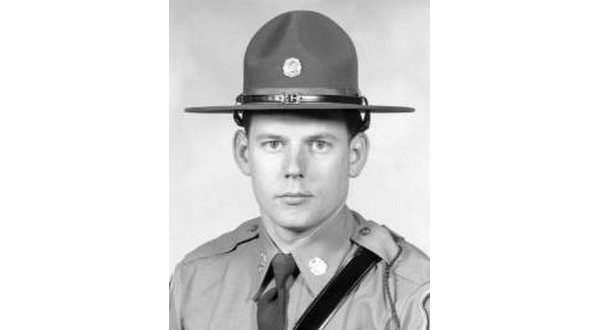 Photo: Missouri State Trooper Jimmie Linegar, one of five officers killed in the line of duty and honored Wednesday.
Five Missouri State Highway Patrol troopers who were killed in the line of duty in the Troop D region were honored Wednesday morning. A monument was placed in front of headquarters last year, but a ceremony marking the occasion was delayed due to COVID-19 restrictions.
Among the five honored was Trooper Jimmie Linegar.
The 31-year-old Trooper Linegar was shot to death on April 15, 1985, at the intersection of U.S. Highway 65 and Missouri Highway 86 south of Branson in Taney County.
Missouri Highway Patrol's website notes Linegar and Trooper Allen D. Hines were conducting a spotcheck when Linegar stopped David C. Tate's van and ran his license. Neither trooper was aware the man they had stopped had just been indicted by a federal grand jury for involvement in a neo-Nazi group accused of murder.
Tate shot Linegar with a machine pistol, as he approached the van to ask more questions. In the ensuing gun battle. Hines was wounded, and Tate ran into the nearby woods.
After an extensive manhunt involving local, county, state and federal law enforcement agencies, Tate was apprehended on April 20, 1985. He was captured and taken into custody just before sunset, near Forsyth.
He was tried in Boone County, Missouri, for the murder of Trooper Linegar, found guilty and sentenced to life in prison. He was also tried for armed criminal action and first-degree assault. He was given a second life sentence plus 15 years, to be served consecutively
Troop D's Sgt. Hines wrote an article to remember Linegar on the 15th anniversary of his death. It was originally printed in the April 2000 issue of the Patrol News. Hines retired on May 1, 2001.
Trooper Linegar was the 13th officer killed in the line of duty in Missouri. He was survived by his wife, a 5-year-old daughter,and a 3-year-old son.
In 2003, a portion of U.S. Highway 65 between Missouri Highway 265 and the Missouri-Arkansas line was designated the Trooper Jimmie Linegar Memorial Highway.
Troop D was established in 1931 and covers 18 counties in southwestern Missouri.
The other four officers honored Wednesday were
* Trooper Victor Dosing, shot in 1941 while trying to arrest a murder suspect in Greene County;
* Trooper Charles Corbin, involved in a patrol car crash in 1943 in Jasper County.
* Trooper Russell Harper, shot while conducting a traffic stop in 1987 in Greene County.
* Corporal John "Jay" Sampietro, struck by a passing vehicle while working a traffic crash in 2005 in Webster County.
WebReadyTM Powered by WireReady® NSI