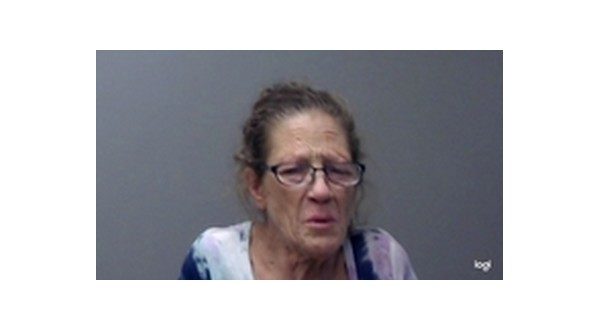 Photo: Lynda Louise Woodruff
A woman appeared during a session of Baxter County Circuit Court Monday and said she was "definitely guilty" of the charges against her and did not want the court to waste its time in dealing with her case.
Circuit Judge John Putman told 59-year-old Lynda Louise Woodruff that it would be better for her to have an attorney, at least initially.
"You are looking at some serious charges, and I think you need some legal advice before entering a formal plea," Judge Putman said.
Woodruff's charges include aggravated assault, unauthorized use of another person's property to facilitate a crime, fleeing, leaving the scene of an accident and reckless driving.
Woodruff's arrest stemmed from a series of incidents on Dec. 21.
A Baxter County sheriff's deputy was traveling north on East Ninth Street when he observed what seemed to be some type of disturbance in the parking lot of a convenience store.
He saw a dark blue pickup truck leaving the parking lot in what was described as a "reckless manner."
As he pursued the speeding vehicle along Arkansas Highway 5 South, the truck was reported to be traveling at speeds in excess of 70 miles per hour.
The vehicle turned off Highway 5 south and onto Old Tracy Ferry Road. According to the probable cause affidavit, the truck was observed crossing the centerline of the roadway several times and also traveling on the wrong side of the road.
The vehicle abruptly came to a stop, after the driver was reported to have almost lost control of the truck.
Woodruff was identified as the driver.
The owner of the truck, whose address on Old Tracy Ferry Road is the same as Woodruff's, had called the sheriff's department to report that she had stolen the vehicle.
When she was being arrested, Woodruff asked if anyone had been hurt when she had hit a vehicle in front of the convenience store.
The deputy on scene was not aware she had crashed into another car, but it was confirmed she had.
Witness said the crash occurred as Woodruff was leaving the store. She is reported to have hit a silver-colored vehicle and then pushed it with her truck until it was knocked out of the way allowing her to leave.
In addition, as she was pushing the silver vehicle, it was shoved into a burgundy-colored pickup truck.
There was fresh damage on the truck Woodruff was driving, according to the probable cause affidavit.
There was no indication in the affidavit as to what led Woodruff to take the actions she did.
Woodruff is free on bond. She was ordered to reappear Jan. 24.
WebReadyTM Powered by WireReady® NSI