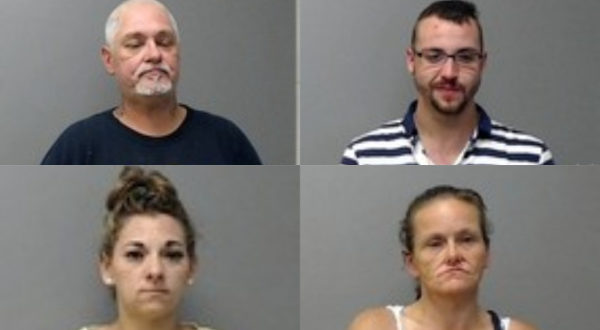 Clockwise from top left: James Seawell, Jonathan Farrar, Jennifer Drzka and Sommer Taylor (Photos courtesy of Baxter County Sheriff's Office)
Four Baxter County residents are in the Baxter County Detention Center accused of kidnapping someone they believed to have stolen cellphones at a local hotel, and one suspect was reportedly in a clown mask. Forty-four-year-old Jennifer Drzka, 20-year-old Jonathan Farrar and 54-year-old James Seawell of Mountain Home and 33-year-old Sommer Taylor of Midway are facing felony counts of kidnapping and aggravated assault.
According to the probable cause affidavit, a call came in Tuesday to the Mountain Home Police dispatch from the Executive Inn of a possible abandoned bike believed to be stolen. Officers arrived, reviewed video footage and discovered a possible kidnapping. The video reportedly shows a victim taken against his will and placed in the back of a vehicle by someone in a clown mask. A be-on-the-lookout was sent, and the vehicle was located nearly an hour later.
Authorities searched the vehicle and reportedly located the victim and three other individuals, identified as Seawell, Taylor and Farrar. According to an officer, Seawell was the individual wearing the mask. The victim had reportedly been hit in the face and head, and his head had been shaved. It was alleged the victim was accused of stealing cellphones, and Drzka asked Seawell, Taylor and Farrar to assist her in retrieving them. No details were given on where Drzka was arrested in the affidavit.
The kidnapping charge is a Class Y felony, the most serious classification of crime in Arkansas not punishable by the death penalty. According to the affidavit, bond for each suspect has been set for $250,000.
WebReadyTM Powered by WireReady® NSI