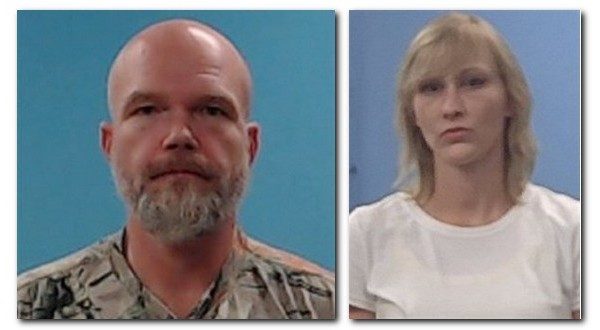 A Boone County couple is in legal trouble after the husband reportedly cut his own leg off in front of his daughter, and the wife went to a friend's residence but left the daughter at home. Forty-eight-year-old Shannon Cox and 30-year-old Sandy Cox are both charged with a felony count of first-degree endangering the welfare of a minor.
According to the probable cause affidavit, a Boone County investigator was dispatched Aug. 2 to a report of Shannon Cox having an amputated right leg. A deputy on the scene told the investigator he located a male lying nude in front of his residence missing a portion of the leg, and the injury was caused by a "chop saw." Shannon Cox had been transported by air ambulance to Cox Medical Center South in Springfield.
The investigator reportedly spotted blood spatter on the floor, leading to the chop saw. There was blood on the saw and more blood spatter on the wall. Outside the residence, a vehicle was located with the hood up, and a 20-pound propane cylinder was laying on top of the battery. In addition, ashes were reportedly located in the vehicle, and the rear passenger window was broken. A child was also present during the incident.
Sandy Cox was not on the scene, but she was contacted later and asked to go to the Boone County Sheriff's Office for an interview. Sandy Cox claimed her husband had been acting odd all day, stating he was Jesus Christ and she "needed to get right with the Lord." Shannon Cox then allegedly started acting in a more violent manner, stated he was Satan and threatened to "twist her head off."
Sandy Cox claimed she stayed at a friend's residence because she was afraid Shannon Cox would kill her. When asked why she didn't take the child with her, she reportedly stated she wasn't worried about her daughter.
Shannon and Sandy Cox have both been released on a bond of $10,000.
WebReadyTM Powered by WireReady® NSI