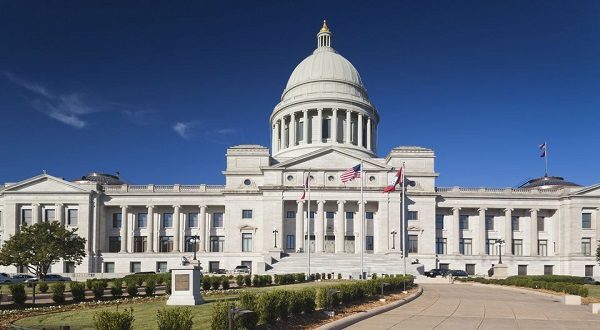 A bill intended to create criminal penalties for a person who knowingly remains in a bathroom of the opposite sex while a minor is present passed a Senate panel on Monday.
Senate Bill 270, by Sen. John Payton, R-Wilburn, advanced from the Committee on Judiciary in a 5-2 roll call vote. The panel's Democratic senators Clarke Tucker of Little Rock and Stephanie Flowers of Pine Bluff were the two detractors. The vote sends the bill to the full Senate for further consideration.
Payton presented his bill as a measure needed to protect minors from being "exposed to something they shouldn't be exposed to."
"It does not make it illegal to go into the wrong facility as assigned to your sex, but it does make it illegal to knowingly remain in there if there's a minor present," he said.
Five people testified against the bill and one person spoke in favor of it during the committee meeting.
Opponents said the bill would put transgender people at risk of criminal prosecution for using public restrooms while doing little to protect minors from sexual abuse. Critics also questioned how officials would verify an accused person's sex and enforce the bill's provisions.
Sarah Everett, policy directory for the American Civil Liberties Union of Arkansas, said the legislation would be "the most extreme bathroom ban" in the nation if passed.
Payton said his bill does not specifically target transgender people but would also apply to "perverse heterosexuals."
The legislation would generally criminalize instances where a person 18 or older knowingly "enters into and remains in a public changing facility that is assigned to persons of the opposite sex while knowing a minor of the opposite sex is 10 present in the public changing facility."
Under the bill, a person would be guilty of a misdemeanor the first two times they violated the section, Payton said. Subsequent offenses would be classified as felonies, Payton said.
Among other exceptions, the bill provides exemptions for parents accompanying minors, people rendering medical assistance, law enforcement officials accompanying a person in their custody and people authorized to maintain and inspect facilities.
WebReadyTM Powered by WireReady® NSI