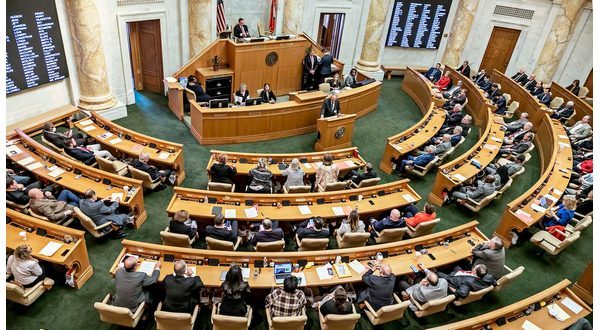 A bill that would require state physical fitness instructors to complete training on how to recognize and respond to certain health conditions passed the Arkansas House on Monday.
According to the Arkansas Democrat-Gazette, House Bill 1458, which would create the Vincent Parks Act if approved, passed 96-0 and advances to the Senate. The bill is intended to honor Parks, a Jonesboro police officer who died after training in extreme heat in July at the state police academy.
"There's nothing that we can do that can bring officer Parks back," said the bill's sponsor, Rep. Frances Cavenaugh, R-Walnut Ridge. "But I do believe it is our duty to make sure we learn from this tragedy."
The bill would require physical fitness instructors responsible for training law enforcement officers, firefighters and Arkansas Game and Fish Commission officers to receive certification on recognizing and managing dehydration and concussions. Instructors also would have to complete training on environmental issues that could threaten the health or safety of a person by causing heat exhaustion or sudden cardiac arrest.
Parks, 38, died after training for about 25 minutes in extreme heat, an Arkansas State Police investigative file revealed. State officials initially released a statement saying Parks hadn't participated in physical activity before his death. It took nearly a month after multiple questionings of officials to correct the statement.
Following Parks' death, Arkansas State Police launched a criminal investigation that resulted in no action.
A complaint against the Arkansas Department of Public Safety and training academy employee Joe Duboise was recently filed with the Arkansas Claims Commission by Parks' attorney, Jim Jackson. Damages are placed at $5 million in the complaint.
Cavenaugh's bill would require physical fitness instructors to remove any cadet or officer who faints, loses consciousness or exhibits warning signs of cardiac arrest from training. A cadet or officer would be barred from returning to training until cleared in writing by a licensed physician.
An instructor acting in good faith would not be liable for any act or omission under the bill unless the fault is intentional, reckless or grossly negligent.
While presenting her bill, Cavenaugh recognized members of Parks' family who observed the House session from gallery seats.
Christina Parks previously told the Arkansas Democrat-Gazette that her husband had always wanted to be in law enforcement.
The two met when Christina was 19 and Vincent was 20. Christina became pregnant soon after starting college. The couple decided she would stay in school, and Vincent would help take care of their daughter, Vivianna "Vivi" Parks, she said.
Eventually, the couple was in a place financially and Vivi old enough for Vincent to pursue his dream.
"He always wanted to be in law enforcement," Christina Parks said. "After a lot of late-night conversations, he decided to do it."
She said a lot of the discussion about law enforcement revolved around Vincent's being a Black man.
"He wanted to make a difference in our community," Christina Parks said. "Jonesboro is a small Southern town. In the back of his mind he thought this could be bad. He also wanted to help re-establish trust in the community."
Mark Berry, R-Ozark, called Parks' death a "senseless tragedy" while speaking on the bill in the House.
"Anytime that you lose somebody in a training environment it's a senseless act. That's exactly what happened to Officer Parks that day, which I believe could have been prevented," he said.
Last month, Berry filed legislation that would make hazing at Arkansas Law Enforcement Training Academy a felony. Berry later said he didn't intend to move the bill forward after receiving assurances the academy will make its own policy on the issue.
Berry filed the legislation a month after former Pulaski County prosecutor Larry Jegley brought forth concerns about hazing at the academy.
Information for this article was contributed by Teresa Moss of the Arkansas Democrat-Gazette
WebReadyTM Powered by WireReady® NSI