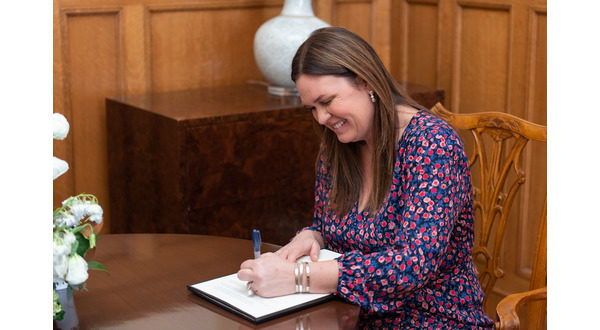 LITTLE ROCK, Ark. (AP) — An Arkansas House panel on Wednesday endorsed Republican Gov. Sarah Huckabee Sanders' plan to overhaul the state's education system and create a voucher program directing public money toward private schooling.
The House Education Committee advanced the proposal, which is expected to go before the majority-Republican House for a vote Thursday. The 145-page measure, if approved there, still faces one last vote in the Senate before heading to Sanders' desk.
"This is the beginning of our commitment as a state to put students first, and to look everyone in the eye and say Arkansas will continue to lead in terms of education," Republican Rep. Keith Brooks, the bill's House sponsor, told the panel before the vote.
Sanders' proposal would raise the minimum starting pay for teachers from $36,000 to $50,000, and it follows calls over the past several months by Democrats and Republicans to raise minimum teacher salaries from one of the lowest in the nation. But the bill includes other measures opposed by Democrats and teachers' groups, including the voucher program.
The legislation would phase in over three years an "education freedom account" for private and home schooling that will be equal to 90% of the state's per-student funding for public schools, which is currently $7,413.
Similar statewide savings account programs exist in Arizona and West Virginia, and they've been proposed in at least a dozen other states this year.
Democrats opposing the measure have said that program opens the door for a new round of court battles over school funding in Arkansas.
"We are constitutionally bound to provide an adequate and equitable education to all Arkansas students," Democratic Rep. Denise Garner said before the vote. "This bill sets us up for future lawsuits for failure to do that."
The vote came a day after the panel heard several hours of testimony that included dozens of school teachers and administrators opposed to the voucher plan. Opponents have also questioned whether the bill would result in unfunded mandates on school districts in the long run.
"I hope and pray the funding is there like we've been told now for a few weeks," Heath Bennett, superintendent of the Harmony Grove School District, told the panel on Tuesday. "Because if it's not you may have some of the best highways going through your town, but you may not have a school."
But Amanda Escue, an administrator with a home school cooperative in northeast Arkansas who supported the legislation, said that more options were needed for parents.
"I'm excited about what this bill can do for all students, regardless of where they are educated," she told the panel on Tuesday.
Other parts of the bill have drawn criticism from Democrats and teacher groups. It would ban classroom instruction on sexual orientation and gender identity before fifth grade, a measure similar to a Florida restriction critics have called the "Don't Say Gay" law. It also would put into law an executive order Sanders signed prohibiting classroom instruction on critical race theory.
Teachers' groups have raised concerns about the bill eliminating the state-mandated salary schedule that sets salary ranges based on years of experience and education level. The bill requires districts set their own salary schedule.
The legislation also proposes initiatives to improve literacy rates in the state that includes the hiring of "literacy coaches." State education officials have estimated the legislation will cost than $297 million in the first year and about $343 million the following year.
WebReadyTM Powered by WireReady® NSI