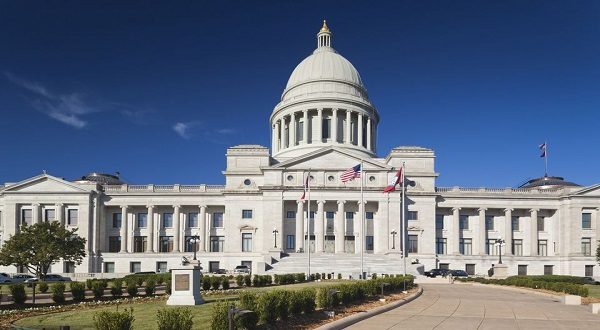 With Arkansas Gov. Sarah Huckabee Sanders' education overhaul bill nearing the end of its legislative journey, state lawmakers will soon turn their attention to a proposed public safety overhaul package and other projects.
Monday will be the 57th day of the 94th General Assembly's regular session.
According to the Arkansas Democrat-Gazette, the Arkansas House and Senate have approved a resolution for the chambers to recess starting March 16 and ending March 29 to coincide with the spring breaks of high schools as well as a resolution to extend the regular session beyond 60 days and to recess April 7 or at an earlier date agreed upon by the House and Senate.
It would require a three-fourths vote of the 100-member House of Representatives and 35-member Senate to extend the regular session beyond April 7.
After factoring in the spring break recess, "we've got four weeks to work," said state Rep. Lane Jean, R-Magnolia, when asked whether there is any way for state lawmakers to wrap up the regular session by April 7.
"We have a lot to do, so long weeks, long hours," said Jean, who is a co-chairman of the Joint Budget Committee. "I am not going to be say it can't be done, because it can. But we've got to get on the stick."
House Speaker Matthew Shepherd, R-El Dorado, said he's still working toward completing the regular session April 7.
"Once the education bill is finished, then I think a lot of these other things are probably going to be a little easier to move forward," he said Thursday.
Asked about ending the regular session by April 7, Senate President Pro Tempore Bart Hester, R-Cave Springs, said Thursday that "I think it is becoming more of a challenge every day.
"We have to keep a goal or we'll never get to somewhere, but we are probably looking at mid-April at this point just because we pushed real hard on the education bill and we just need to give members time to process through all the things that are important to them," he said.
April 7 would be the 89th day of the regular session.
The regular session lasted 118 days in 2021 and was 30 days longer than the 88-day regular session in 2019. The regular session lasted 86 days in 2017 and 82 days in 2015.
, but you got to have some idea of RSA before you can do criminal justice," Hester said.
The state's Revenue Stabilization Act prioritizes the state's distribution of general revenue of state-supported programs in each fiscal year.
Sen. Jonathan Dismang, R-Searcy, a co-chairman of the Joint Budget Committee, said Thursday that "I am waiting on a balanced budget proposal" from Sanders' administration for fiscal 2024, which starts July 1, 2023, and ends June 30, 2024.
Asked when the governor is going to present her proposed general revenue budget for fiscal 2024, Sanders spokeswoman Alexa Henning said, "No announcements at this time."
In November, then-Gov. Asa Hutchinson proposed a $314 million increase in the state's general revenue budget to $6.33 billion in fiscal 2024, starting July 1, 2023, with $200 million of the increased general revenue earmarked for public schools to help boost teachers' salaries.
At that time, the former Republican governor said his proposed budget for fiscal 2024 would represent a 5.2% increase over the current budget of $6.02 billion, leaving a projected general revenue surplus of $254.9 million at the end of fiscal year 2024. Considering inflation was more than 8% last year, limiting the growth of the state's general revenue budget to 5.2% reflects conservative budgeting in these challenging times, he said.
EDUCATION REVAMP
On Monday after the Senate adjourns, the Senate Education Committee is scheduled to consider the version of Sanders' education overhaul legislation that the House amended.
The House on Thursday voted 78-21 to approve Senate Bill 294 by Sen. Breanne Davis, R-Russellville. The legislation is the Republican governor's wide-ranging education overhaul bill that would boost the minimum salary for teachers from $36,000 to $50,000 a year and includes state funds that students could use to attend a private, parochial or home school.
Among other things, the legislation would give $2,000 raises for teachers making more than the new proposed minimum teacher salary. Teachers also could receive up to $10,000 in bonuses for high test scores, or teaching in a geographical area or a subject matter in high demand.
"It will be on the Senate floor Tuesday and to the governor's desk," Hester said.
."
The Senate's agenda on Monday includes Senate Bill 262 by Sen. John Payton, R-Wilburn, which is aimed at no longer requiring the state Board of Education to administratively consolidate school districts with fewer than 350 students into one or more school districts. The bill cleared the Senate Education Committee on Wednesday.
School districts with fewer than 350 students may still voluntarily agree to administratively consolidate with or be annexed to another school district and districts, and the state Board of Education would be required to promptly consider petitions submitted by these school districts under the bill.
Under Act 60 of 2004, school districts with fewer than 350 students are required to consolidate. Act 377 of 2015 allows school districts with student enrollment that falls below 350 that are not in financial, academic or facilities distress to apply to the state Board of Education for a waiver to continue to operate independently.
Payton said Friday school districts with fewer than 350 students still would be required to meet the state's financial and academic standards under his SB252.
is trying to alleviate those concerns."
PUBLIC SAFETY OVERHAUL
Rep. Jimmy Gazaway, R-Paragould, said Friday that lawmakers are still discussing the sweeping public safety package, which is expected to cover topics ranging from "parole reform" to prison expansion.
"Education just sucked so much oxygen out of the room," he said. "Now I think we can squarely focus on it."
But Gazaway said he didn't expect the bill to be filed this week.
While he anticipates the filed bill to be longer than the 145-page education bill passed by the House on Thursday, he said technical changes will likely make up a significant portion of the measure.
The public safety package is expected to cover legislative proposals from the Arkansas Prosecuting Attorneys Association and the state Department of Corrections, Gazaway said. Other groups, including The Council of State Governments and the American Legislative Exchange Council, also have offered suggestions, said Gazaway.
The bill would include "progressive reforms" intended to reduce recidivism rates and increase funding for specialty courts, he said.
Gazaway said discussions over prison expansion have contributed to the delay in the bill's filing.
"We have to be careful with the budget. We want to be wise stewards of the money we have," he said. "Now that we have some clue as to what the education package is going to cost, now we can have a better idea of what we can afford in terms of public safety."
OTHER BILLS
The Senate Judiciary Committee on Monday is scheduled to consider Senate Bill 270, which would establish criminal penalties for a person who knowingly remains in a bathroom of the opposite sex while a minor is present.
It will be the second time in as many weeks the panel has reviewed the legislation. Payton, the bill's sponsor, pulled the measure from the Senate floor on Wednesday after some lawmakers raised concerns about a drafting error.
SB270 would generally criminalize instances where a person 18 or older knowingly "enters into and remains in a public changing facility that is assigned to persons of the opposite sex while knowing a minor of the opposite sex is present in the public changing facility."
On Tuesday, the House Judiciary Committee is expected to consider Senate Bill 81, which aims to regulate obscene materials in public libraries, and Senate Bill 199, which would allow civil lawsuits against health professionals who perform "gender transition procedures." They are scheduled for a special order of business on the panel's agenda.
Senate Bill 81 by Sen. Dan Sullivan, R-Jonesboro, would strike a defense statute from state law protecting public library staff from criminal liability for distributing obscene material. It also aims to standardize the process for challenging the "appropriateness of material" available at public and school libraries.
Senate Bill 199 by Sen. Gary Stubblefield, R-Branch, would permit a person who was injured as a minor by a "gender transition procedure" to sue the health professional who performed the procedure.
At the top of the agenda for the Senate State Agencies and Governmental Affairs Committee's meeting on Tuesday is Sullivan's amended Senate Bill 71, which is aimed at ending affirmative action programs in state and local government in Arkansas and giving state agencies two years to implement the bill, if it's enacted into law.
Under the bill, "The state shall not discriminate against, or grant preferential treatment to, an individual or group on the basis of race, sex, color, ethnicity or national origin in matters of state employment, public education or state procurement," under a section of the bill which states that it would only apply to an action taken after the effective date of the measure.
The bill states this section of the bill does not prohibit consideration by the state of bona fide qualifications based on gender that are reasonably necessary to the normal functions of state government, public education or state procurement; invalidate a court order or consent decree that is in force at the effective date of this measure; prohibit an action necessary to establish or maintain eligibility for a federal program if ineligibility would demonstrably result in a loss of federal funds to the state; or preempt state discrimination law or federal discrimination law.
Under SB71, a person who negligently violates this section of the bill would be guilty of a Class A misdemeanor.
HOMESTEAD PROPERTY TAX CREDIT
On Monday, the House is scheduled to consider legislation that would increase the homestead property tax credit from $375 per parcel to $425 per parcel after the measure cleared the House Revenue and Taxation Committee on Thursday.
House Bill 1032 by Rep. Lanny Fite, R-Benton, would be effective for assessment years starting on or after Jan. 1, 2023.
The homestead property tax credit reduces the amount of real property taxes due on a property owner's qualified homestead for each assessment year, the state Department of Finance and Administration said in a legislative impact statement on HB1032. To claim the credit, a property owner registers with the county assessor and provides proof of eligibility for the credit.
The finance department projects that HB1032 will cost $34 million in calendar year 2024 and $34.8 million in calendar year 2025.
In the 2000 general election, voters approved Amendment 79 to the Arkansas Constitution to create the homestead property tax credit. In response, the Legislature enacted a half-cent sales tax, effective Jan. 1, 2001, and the revenue is credited to the property tax relief trust fund.
The Legislature established the initial homestead property tax credit at $300 per parcel before voting in 2007 to increase it to $350 and then voting in 2019 to increase it to $375. The 2019 law also allows the transfer of excess funds in the property tax relief trust fund to the state's catastrophic reserve fund.
TUNNEL TO BIG MAC
The Legislative Council's Executive Subcommittee is scheduled to discuss the option of the Bureau of Legislative Research issuing a request for qualifications for architectural and engineering design services for a state Capitol tunnel project, according to the General Assembly's website.
The proposed tunnel would be from the state Capitol building to the Multi-Agency Complex, which is commonly known as Big MAC, and security concerns have prompted consideration of the project, said Legislative Council Co-Chairman Rep. Jeff Wardlaw, R-Hermitage. He said the request for qualifications would help determine the cost of the proposed project.
As to whether lawmakers, their staff and the general public would be able to use the proposed tunnel, Wardlaw said, "I think that's all to be determined." If the proposed tunnel would be opened to the general public, they would have to go through security at the state Capitol building or at Big MAC, he said.
Marty Garrity, director of the Bureau of Legislative Research, said $2 million in state funds has been appropriated annually for the proposed tunnel.
In September of 2009, the Legislative Council signed off on a plan with an estimated $1.8 million price tag to construct a pedestrian tunnel between the state Capitol building and Big MAC before the project was scrapped. At that time, then-Democratic Gov. Mike Beebe described the project as unnecessary, citing the state's tight economic times.
WebReadyTM Powered by WireReady® NSI