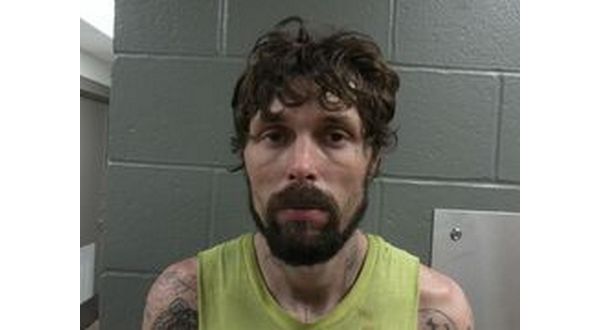 A Missouri man has been arrested after allegedly arguing with his wife, drinking a half pint of whiskey, driving 90 minutes to Izard County, then leading a deputy on a high speed pursuit before crashing into a railroad bridge. Multiple charges have been filed against 32-year-old Beau Sanders Burton of Cabool following the incident early Saturday morning.
According to the probable cause affidavit, a deputy was parked in Calico Rock just before midnight when a vehicle went by exceeding the speed limit. The deputy initiated a traffic stop and noticed an open bottle of alcohol in the center console. The driver asked "Where am I at? What town is this in?" The deputy told him Calico Rock. While trying to get his wallet out to get his driver's license, Burton said "Calico Rock what?" A dog in the vehicle jumped into the front seat blocking the deputies view of Burton, and as the deputy moved from the passenger side of the car to the driver's side, Burton took off.
Speeds reached 90 miles-per-hour as Burton continued on State Highway 56 near the State Highway 5 intersection. The pursuit continued through a neighborhood, then back to Highway 5 towards the White River where Burton crashed into a railroad bridge. Burton fled the scene on foot with the deputy continuing the chase. At one point, the deputy heard water splashing and discovered Burton had fallen into the creek that runs from Rand Park to the White River. Burton swam to the other side of the creek and the deputy lost sight of him.
Deputies located Burton later that afternoon hiding in a shed behind Lemley's Motel. Burton told deputies he and his wife were drinking at their home in Cabool and started arguing, so he left to go to a friend's house in Shreveport, Louisiana. He told law enforcement he drank at least half a pint of whiskey before leaving and making the drive to Calico Rock, which is just over a 90 minutes.
Burton is facing felony charges of fleeing and breaking or entering. Misdemeanor charges include speeding, driving with an expired registration, possession of an open alcoholic container, no proof of insurance, driving while license is suspended, leaving the scene of an accident and fleeing on foot. He also faces numerous traffic violations and a charge of cruelty to animals due to the fact his dog was in the car during the incident.
Burton is being held in the Izard County Jail on bonds totaling $20,000.
WebReadyTM Powered by WireReady® NSI