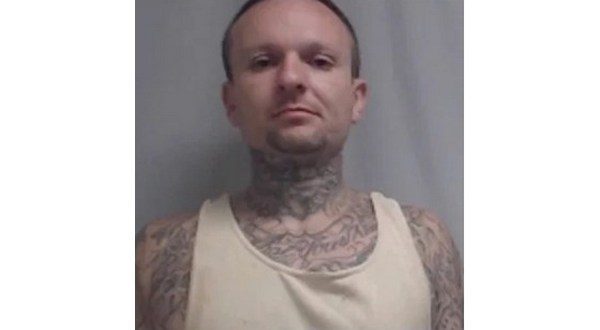 Photo: Brandon Ray Brokaw
An Independence County man who reportedly struggled with Stone County officers four times as they tried to arrest him, including twice as he tried to shove methamphetamine into a body orifice, is headed to prison.
Online court records indicate 32-year-old Brandon Ray Brokaw of Batesville has been sentenced to 20 years in the Arkansas Department of Correction through a negotiated plea agreement. Brokaw was represented by Melbourne attorney Gray Dellinger.
Brokaw plead guilty to
– Possession of a controlled substance, crystal methamphetamine, with the purpose to deliver
– Tampering with physical evidence (three counts)
– Furnishing or possessing prohibited articles in a correctional facility or detention center
– Aggravated assault upon a law enforcement officer (three counts)
– Possession of drug paraphernalia with the purpose to store or conceal crystal methamphetamine
– Resisting arrest
He was also charged and sentenced as a habitual offender.
According to the probable cause affidavit, deputies were dispatched to a report of a reckless driver entering Mountain View on Arkansas Highway 14 in early September. The caller advised the vehicle almost struck a child getting off a school bus. The deputies and a patrolman from the Mountain View Police Department made contact with the driver, later identified as Brokaw, in the parking lot of a fast food restaurant.
The patrolman reported the odor of intoxicants coming from the vehicle, with open alcoholic beverages inside.
The original arrest story is available here.
WebReadyTM Powered by WireReady® NSI