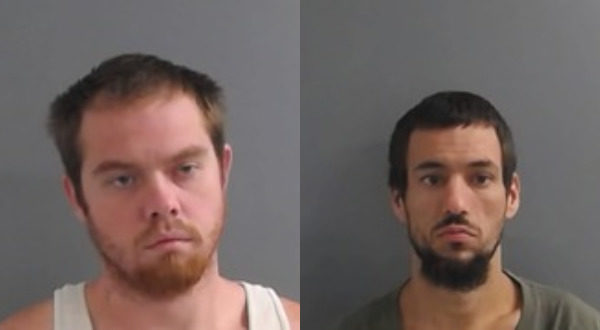 Photos: (from left) Jonathan Stuebinger and Christopher Lamkin
Two Marion County jail inmates have been charged with aggravated assault and impairing operation of a vital public facility following an altercation earlier this month that sent a third to a local hospital. The incident occurred during a video court session and forced the proceedings to be paused until order could be restored in the jail.
According to the probable cause affidavit filed Tuesday, two inmates, Jonathan Stuebinger of Mountain Home and Christopher Lamkin of Yellville, both 27 years old, allegedly assaulted 51-year-old Daniel Johnson. Online court documents show Johnson with addresses in Yellville and Black Rock.
The altercation reportedly began after Stuebinger and Johnson were returned to their pod after court. Stueginer reportedly rushed up a staircase toward Johnson, with the two falling down the stairs fighting. Another inmate was observed attempting to pull Lamkin from the fight.
A detention officer was able to break up the altercation by utilizing pepper spray on Stuebinger, with Lamkin returning to his cell.
Johnson advised he was having difficulty breathing and was transferred by ambulance to North Arkansas Medical Center in Harrison.
Bonds for Stuebinger and Lamkin were set at $10,000.
Online records show Stuebinger was sentenced to 10 years probation in 2014 for residential burglary and six years on theft of property and defacing a firearm charges. In 2018, he was back in court charged with failure to comply with the terms of his probation. In November 2018, he was awaiting bed space in the Arkansas Department of Correction when he reportedly removed his ankle monitor, leading to a charge of third-degree escape. He was arrested and booked into the Marion County jail Sept. 30.
Lamkin is being held on charges connected with a burglary at Breadeaux Pizza in Yellville in July. He was captured hiding in the loft of a residence in Marion County in September.
Johnson is being held on a charge of possession of a firearm by certain persons, meaning he is a convicted felon.
Click here for the previous story.
WebReadyTM Powered by WireReady® NSI